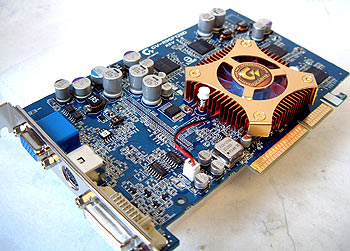 It's amazing how quickly things can change in the computer industry. A year ago who would have known that ATi could have beat nVIDIA at their own game and released a whole family of winning chips?
From ATI's highly successful Radeon 9700 Pro to the budget Radeon 9000 and mainstream Radeon 9500 Pro, the company has all the bases covered.
With the release of the Radeon 9600 Pro, ATi now has an economical counter to nVIDIA's GeForceFX 5600. With an approximate retail price of $207 CDN ($155 US), the Gigabyte Radeon 9600 Pro is clearly one of the best value videocards on the market.
Even if you're a hardcore gamer, the Gigabyte Radeon 9600 Pro should be able to deliver enough framerates to keep you happy. Of course if you're a 3DMarker then this card is definitely not for you.
The Gigabyte Radeon 9600 Pro comes with a fairly decent software bundle which includes three full version games (Oni, 4x4 Evo and Serious Sam) and PowerDVD. TV-Output capabilities you can play your favorite games on the larger TV screen instead.
I would have liked to see Gigabyte include some RAMsinks on their Radeon 9600 Pro as the memory does get quite warm during operation. Another thing that was a bit disappointing was that the Gigabyte Radeon 9600 Pro is not compatible with older 2x AGP based motherboards. The Gigabyte Radeon 9600 Pro is a fast videocard which can deliver when it counts. When you add in the overclocking potential of the card things just could not get any better!
Find out about this and many other reviews by joining the Weekly PCstats.com Newsletter today!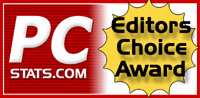 Related Articles:

Here are a few other articles that you might enjoy as well...

2.