Gigabyte GV-R96P128D Radeon 9600 Pro Videocard Review
---
Ever since ATi released their Radeon 9700 Pro VPU in the summer of 2002 they've taken control of the graphics card markets. Even now ATI are still firmly in the drivers seat, despite the recent release of nVidia's GeForceFX lineup. ATi knows though that no matter how fast your high end part is, it's in the budget and mainstream markets where the war is must be won.
Gigabyte (a tier one manufacturer) has been on the ATi bandwagon since the release of the Radeon 8500 line of GPU's, and today we're going to be looking at Gigabyte's mainstream Radeon 9600 Pro which is obviously based on an ATi VPU.
The tiny Radeon 9600 Pro VPU is built on 0.13 micron technology instead of larger more expensive 0.15 micron like the Radeon 9500/9700/9800's. This was a smart move for ATi as it's better to experiment on the lower cost chipsets and have all the quirks worked out by the time you migrate your high end VPU's to the smaller manufacturing process. nVIDIA learned this the hard way with their GeForceFX 5800 GPU's!
With a retail price around $207 CDN ($155 US), the Gigabyte Radeon 9600 Pro is quite aggressively priced; just below the that of most GeForceFX 5600 class videocards (it's main competition). Despite the reasonable price, the Gigabyte Radeon 9600 Pro does come with a few goodies including full versions of Serious Sam, Oni and 4x4 Evo. PowerDVD software is also thrown in for good measure.
Because the Gigabyte Radeon 9600 Pro supports TV-Out, they also bundle a S-Video/Composite cable and a DVI to analog converter for those of you who want to use dual monitors.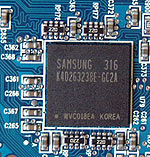 Gigabyte's earlier videocards were red in colour but as you can see the Gigabyte decided to go with blue instead (the same colour for their motherboards). Aside from the missing floppy drive power connector on the top right hand corner, the Radeon 9600 Pro uses the same Radeon 9700 Pro layout and design. Everything from capacitor and component layout is the same.
With the Radeon 9600 Pro built on 0.13 micron technology, the core does not generate as much heat thus Gigabyte can get by with equipping their card with a smaller heatsink. There is no shim around the Radeon 9600 Pro VPU so any HSF you buy will make direct contact with the core. Just be careful not to knock off one of the resistors when installing something.
Surprisingly, Gigabyte equips their Radeon 9600 Pro with Samsung 2.8ns BGA DDR RAM, the same found on the Radeon 9700/9800 Pro based videocards!
This was certainly good news but we wonder if Gigabyte/ATi artificially limits overclocking like they did with earlier videocards. We would have liked to see some sort of memory cooling as the memory gets quite hot during operation. We were a bit disappointed to see the Gigabyte Radeon 9600 Pro will not work with older motherboards which are not at least AGP 4x compliant either. Up next, overclocking results.