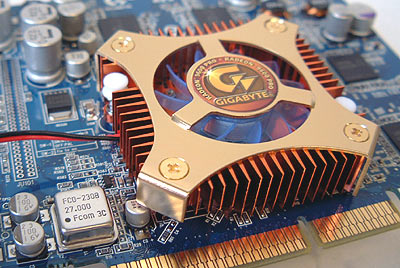 The Gigabyte Radeon 9600 Pro is clocked by default at 400 MHz core and 300 MHz memory. Without adding any additional cooling we started to overclock the videocard.
Built on 0.13 micron technology we began to raise the core speed 10 MHz at a time; 440, 450, 460 MHz and the back of the core was not even hot to the touch!
At around 495 MHz we began to see some visual artifacts, lowering the core speed to 490 MHz solved that though. With the same 2.8ns DRAM found on the 9700/9800 Pro class cards on the Gigabyte Radeon 9600 Pro we had even higher hopes in terms of memory overclocking.
With a default speed of 300 MHz we were good overclockers and raised the memory frequency slowly.
Unfortunately the memory overclocking didn't turn out very well. Anything higher then 341 MHz and artifacts would start appearing when running 3DMark or the CodeCreatures benchmarks.
Still 490/341 MHz out of a budget videocard like the Gigabyte Radeon 9600 Pro is very good. And, as you'll see it does wonders for the benchmarks!
pcstats test system specs:

computer hardware:

processor:

pentium 4 2.8 ghz

clock speed:

21 x 133 mhz = 2.8 ghz

motherboards:

msi gnb max-fisr*

chipsets:

e7205

videocard:

ati radeon 9700 pro (325/620)
msi g4ti4600-td (300/650)
msi g4mx440-t8x (250/400)
albatron geforcefx 5200p (250/400)
prolink geforcefx 5600 golden limited (325/600)
albatron geforcefx 5600p turbo (325/600)
gigabyte radeon 9600 pro (400/600)

gigabyte radeon 9600 pro (490/682)

memory:

2x 256mb corsair xms3500 cas2

hard drive:
20gb maxtor diamondmax+
cdrom:
nec 52x cd-rom
floppy:

panasonic 1.44mb floppy drive

heatsink:
avc sunflower
powersupply:
vantec 470w stealth psu
software setup

windowsxp build 2600
intel inf 5.10.1012
catalyst 3.5
detonator 44.03

workstation benchmarks

3dmark2001se
3dmark03
aquamark
codecreatures
commanche 4
gun metal 2
quake iii arena ver 1.17
ut2003

aa test, af and aa+af test
3dmark2001se
quake iii arena
* - 8x agp was enabled and functioning properly during all testing.