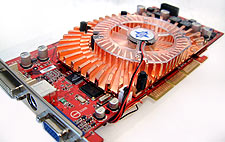 When nVIDIA released their GeForceFX 5800 Ultra, they clearly had an inferior product to ATi's Radeon 9700 Pro.

With the NV30 performing slower, costing more, and producing more noise and heat things did not look good for nVIDIA. it went from bad to worse when ATi released their popular Radeon 9800 Pro earlier this year!

With the GeForceFX 5900 Ultra however, it seems nVIDIA have gone a step in the right direction again as the NV35 is very competitive against the R350 in all the benchmarks! Perhaps nVIDIA was right about 3DMark03 as it's the only benchmark in our suite that the MSI FX5900U-VTD256 Ultra did relatively poorly in. Gamers out there please note the exceptional performance of the GeForceFX 5900 Ultra in the Gun Metal 2 benchmarks - being the only DX9 game test able to show NV35 is faster than ATi's Radeon 9800 Pro.

While some of the other manufacturers are still tinkering with their manufacturing process, MSI is first with their own GeForceFX 5900 Ultra. We were extremely impressed with the software package that MSI bundled with this product. Full versions of Command & Conquer Generals, Battlefield 1942 and Unreal II go a long way! There's no other computer product on the market that offers that much (good) gaming software!

MSI also threw in a small aluminum LED mouse (with 800 dpi resolution) which is a very nice touch, and because the card supports VIVO we also find a VIVO breakout box and some cables. Lastly there's a DVI to analog converter should you want to use dual monitors.

Because the GeForceFX 5900 Ultra outputs a lot of power under load, most cards employ nVIDIA's two slot cooling solution. MSI's TwinFlow cooling system takes up less space, runs quiet, and keeps temperatures a few degrees cooler. Our particular test sample was running 3 degrees Celsius lower than the Albatron GeForceFX 5900PV (despite running the core 50 MHz higher!) It was also one of the quietest active videocard cooling systems we have ever tested to date.

With so many good things bundled in with the MSI nBox FX5900U-VTD256 Ultra, the retail price is pretty hefty at $530USD ($740CDN). But, if what you've seen here is just what the doctor ordered, you'd better start saving your pennies!

Find out about this and many other reviews by joining the Weekly PCstats.com Newsletter today!

Related Articles

Here are a few other articles that you might enjoy as well...

2.