As we mentioned earlier, other than the red PCB the MSI FX5900U-VTD256 Ultra follows the reference design set by nVIDIA exactly. This is not a bad thing - it saves the manufacturer R&D time and allows them to get their card out to the public faster.
Because the FX5900U-VTD256 Ultra does not use the reference designed heatsink from nVIDIA, the card doesn't take up more than the space allotted for a traditional AGP card. In other words, the PCI slot under the AGP port is still useable, thankfully.
The 5900 Ultra 256MB videocard retails for about $740CDN ($530USD), which is obviously more than the average GeForceFX 5900 Ultra.
msi nbox fx5900u-vtd256 ultra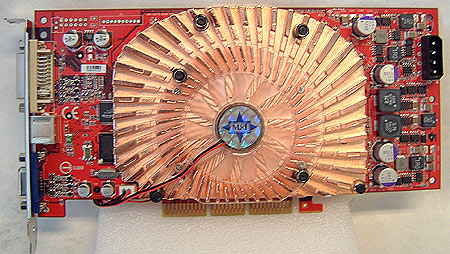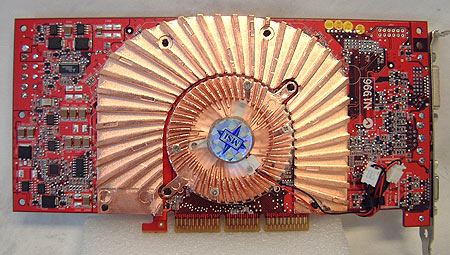 The FX5900U-VTD256 Ultra's VIVO capability comes thanks of the Phillips 7108AE chipset which is pretty much the norm. We've used quite a few cards with the Phillips chipset in the past and the picture outputted to the screen is quite good.
One thing you can't tell from the two pictures of the FX5900U-VTD256 Ultra video card is just how heavy the entire unit is. This is a very heavy videocard and that may put some stress on the AGP port. The AGP lock really does play an important role these days with cards such as this. I can imagine a video card such as the FX5900U-VTD256 Ultra coming loose from the AGP slot quite easily were it not for the AGP lock.
I have a gripe to mention about the auxiliary molex power connector on the end of the videocard. With the way it is oriented (vertical), the power cables may interfere with the other system devices. The videocard PCB is visibly made to accept either a horizontal or vertical socket, so perhaps it all comes down to the availability of the component at time of manufacture?
Next up, a look at the massive heatsink that keeps the 5900 Ultra core from a thermal meltdown.