Recently there seem to have be a videocard renascence developing. Many manufacturers are now overclocking their cards right from the get go.


89% Rating:

Home > Reviews > Video Cards > MSI FX5900U-VTD256
Cooling the FX5900U-VTD256 Ultra
One of the biggest knocks against the reference designed GeForceFX 5900 Ultra was it's enormous GPU/memory cooling. With such an enormous cooler, it occupied the first PCI slot as well! MSI have gone with a custom built GPU HSF for their FX5900U-VTD256 Ultra and thankfully it's a single slot solution.

The aluminum heatsink is copper plated and covers both the front and rear of the videocard. The front heatsink is a single piece which covers both the GPU and memory. the rear heatsink consists of two pieces, one to cool the rear of the GPU and a U shaped heatsink to cool the BGA DRAM on the rear of the videocard.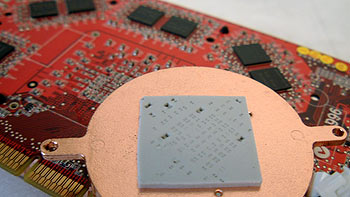 Because the rear of the videocard is not flat (there are dozens of capacitors, resistors and ICs) MSI use a thick gray thermal pad which is specially designed for rough surfaces. Between the other heatsinks and devices a good amount of white thermal paste has been used to ensure optimal heat transfer.

MSI claim that the 'TwinFlow cooling system' as it is called allows the card to run 8 degrees Celsius lower then other FX5900 Ultra based videocards. Despite running 50 MHz more core speed, the MSI NBox FX5900U-VTD256 Ultra ran 3 degrees cooler (34 vs 37) then the Albatron GeForceFX 5900PV while at idle according to internal readings!
The GPU TwinFlow cooling system produced very little noise under power - and would not be audible outside of the case. According to the manufacturer, the actual noise level has been measured at 26dB, but lab-based measurements rarely correlate to the real world entirely. Now, let's take a quick look at the technology behind the FX5900U-VTD256 Ultra before we head on into the benchmarks and overclocking results!