MSI NBox FX5900U-VTD256 Ultra Videocard Review
---
Back in the days when 3Dfx was king and nVIDIA still a pre-pubescent teenager, manufacturers differentiated themselves by clocking videocards higher then what was advised, and some even included large software bundles to tip the scale. In this wonderful period videocards were rarely based entirely on the reference design, then came what I like to call the "dark ages"...
In the 'dark ages', manufacturers did nothing exciting with their products and followed the reference design down to a tee. Not only that, but most products arrived on store shelves with the software bundles cut out. Games if they were included, were old, out of date, or titles that never carried much weight anyway.
Recently though, there seem to have been some changes to which might indicate the videocard industry is on the precipice of a renaissance. Many manufacturers are now overclocking their cards right from the get go, and better software bundles are once again being assembled.
If you were to buy a GeForceFX 5900 Ultra based videocard right now, you're most likely going to get one built by Flextronics (nVIDIA's board partner) rather then getting one built by the manufacturer of choice. This was done not just because the GeForceFX 5900 Ultra is an incredibly complex videocard, but also because it's expensive to validate and build. nVIDIA aren't giving manufacturers the option to skimp on certain parts and have Quality Assurance issues pop up again (if you recall, Gainward experienced signifcant QA problems with their Ti4200 line) that hurt the "GeForce" brand.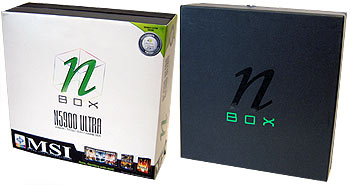 Officially, the centralized manufacturing is a stop gap solution. In the mean time manufacturers have worked out the kinks in their own design and manufacturing process. MSI are reportedly the first manufacturer to be selling their own custom built GeForceFX 5900 Ultra's.
The reference design is still followed to a "T", so to differentiate the nBox, an extraordinary bundle of hardware (and we do mean items other than the videocard) and software has been assembled. In fact, the nBox has easily the most impressive bundle of goodies we've seen in the last 12 months!
Now that the bar has been raised, we can only hope the days of bundling Duke Nukem and Serious Sam are finally over.
What makes the MSI NBox FX5900U-VTD256 Ultra special?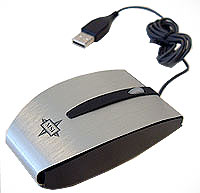 Inside the ornate packaging MSI have bundled three full version games with the 5900 Ultra videocard. These titles include Command & Conquer Generals, Battlefield 1942 and Unreal II!
Separately, these three games would retail for about $120 CDN, and perhaps more importantly, they each command a large online following.
Remember what we said about hardware? Good, because along with the games comes a brushed aluminum blue LED optical mouse that is capable of 800 dpi! Other more standard equipment includes a molex Y splitter, VIVO break out box, SVideo-to-SVideo cable, S-Video-to-composite converter and a DVI-to-analog converter.
Now hold your breath and take a look at this massive, copper clad videocard with its enormous heatsink and bright red colour!