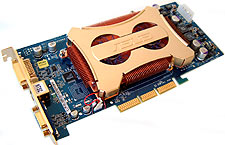 Competition is good and it's nice to see that nVIDIA is back in the performance game. The only benchmarks in the suit that definitively showed the GeForceFX 5900 Ultra being slower than the stellar ATI Radeon 9800 Pro were the two synthetic FutureMark benchmarks. Everything else which used real world game engines seemed to show the two were close at stock speeds.
The Asus name certainly garners a lot of respect from users and consumers alike and while the other tier one manufacturers have caught up with Asus in terms of quality, they do not have the brand recognition that Asus enjoys.
The software package that comes along with the Asus V9950 Ultra is pretty impressive with AsusDVD (PowerDVD with an Asus skin/logo), a six game demo and full versions of Black Hawk Down, Battle Engine Aquaila and GunMetal. It's certainly one of the better packages out there! Hardware wise they were kind enough to include a DVI to analog converter as well as a S-Video-Composite cable so you can take advantage of the TV-Out features.
The HSF on the Asus V9950 Ultra worked very well as it was the coolest running FX 5900 Ultra we have tested so far. Amazingly it was also one of the quietest and only produced about the same noise level as a Radeon 9800 Pro HSF. Asus used a good amount of thermal paste between the GPU/memory and heatsinsk and their screw on solution places a lot more pressure then the average heatsink clips.
All FX 5900 Ultra's are fast, that's a given. Thankfully for enthusiasts out there, the test sample was also an awesome overclocker! Hitting 531 MHz core and 1.02 GHz on the memory is simply unbelievable! The benchmarks certainly loved those overclocked videocard!
With a retail price of $689 CDN ($499 US) the Asus V9950 Ultra is a very expensive videocard and we were a bit disappointed it did not support VIVO as it only has TV-Output. Sure most users will not use it but with the competition bundling it in their cards for about the same price, Asus should as well. It's a fast card but you'd better be prepared to pay for that speed!
Thanks to Canada Computers for supplying the Asus V9950 Ultra for review.
Related Articles:
Here are a few other articles that you might enjoy as well...