Asus uses a single slot copper HSF on the front of the videocard and a large aluminum heat spreader on the back. Unlike the reference nVIDIA GeForceFX 5900 Ultra, the cooling solution Asus employs only takes up one slot - although I doubt you'd want to use the first PCI slot anyway.
Instead of flimsy clips, the heatsink attaches with screws, springs, plastic washers and nuts. This certainly makes the HSF more sturdy. A nice amount of thermal paste is applied between the GPU/memory and heatsink. The rear heat spreader comes in direct contact with the rear of the PCB to gather as much heat as possible from the GPU. The V9950 Ultra was the coolest running GeForceFX 5900 Ultra we have tested to date.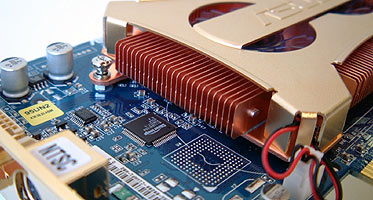 The two 40mm GPU fans that Asus uses are extremely quiet even when running in 3D mode. In terms of noise I'd say they're easily as quiet as the Radeon 9800 Pro HSF.
With most of its competition fully VIVO compatible, I was a bit disappointed to see that the Asus V9950 Ultra only supported S-Video out (despite it saying VIVO on the I/O plate!). You'd expect the best when you're shelling out $500+ for a videocard!
Two user manuals are included with the V9950 Ultra, but neither are very detailed and novice users may have problems following the instructions. This was surprising as the Asus videocards I have owned in the past always had well detailed manuals.
If you're interested to learn a bit more about GeForceFX 5900 Ultra technology or take a look at some image quality shots (compared to an ATi Radeon 9800 Pro) please check out our Albatron GeForceFX 5900PV review. Next up, for the enthusiasts out there we handle a little overclocking goodness.