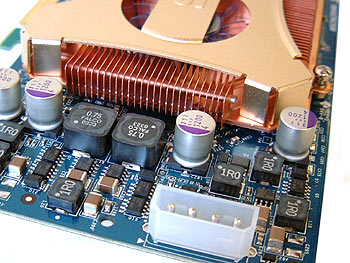 With the rather impressive cooling solution on the Asus V9950 Ultra we were hoping to get some nice numbers from the videocard.
As always we overclock the core and memory independently first to see how high each will go then we overclock them together. Off to the core!
Starting at 450 MHz we began to raise the core speed 5 MHz at a time. 485, 490, 495 MHz blew by quickly as did the 500 MHz core mark. Amazingly the V9950 Ultra had a lot more headroom in it and even broke the 525 MHz mark! The highest we were able to overclock the core without it locking up was 535 MHz and that was with stock cooling!
The memory on the Asus V9950 Ultra was not to be out done by the awesome core overclock. Starting at a relatively lowly 850 MHz we upped the memory frequency slowly. 900 MHz and 950 MHz was passed very easily, even 1 GHz was no problem for the Asus V9950 Ultra! We finally settled for an amazing 1.04 GHz. Anything higher and the memory would start to artifact during 3DMark tests.
Knowing that the core and memory overclocks on the previous GeForceFX 5900 class cards we tested did not play well with each other we knew that we would not be able to run 535/1040 on the Asus.
We were correct, but the max speed the card reached with no problems was 531 MHz core and 1.02 GHz memory which is certainly not bad either! As you'll see this really does boost the benchmarks quite nicely!
pcstats test system specs:

computer hardware:

processor:

pentium 4 2.8 ghz

clock speed:

21 x 133 mhz = 2.8 ghz

motherboards:

msi gnb max-fisr

chipsets:

e7205

videocard:

ati radeon 9800 pro (380/680)
ati radeon 9700 pro (325/620)
msi nbox fx5900u-vtd256 ultra (450/850)
albatron geforcefx 5900pv (400/850)
msi g4ti4600-td (300/650)
asus v9950 ultra (450/850)

asus v9950 ultra (531/1020)

memory:

2x 256mb corsair xms3500 cas2

hard drive:
40gb wd special ed.
cdrom:
nec 52x cd-rom
floppy:

panasonic 1.44mb floppy drive

heatsink:
avc sunflower
powersupply:
vantec 470w stealth psu
software setup

windowsxp build 2600
intel inf 5.10.1012
catalyst 3.5
detonator 44.03

workstation benchmarks

3dmark2001se
3dmark03
aquamark
codecreatures
commanche 4
gun metal 2
quake iii arena ver 1.17
ut2003

aa test, af and aa+af test
3dmark2001se
quake iii arena