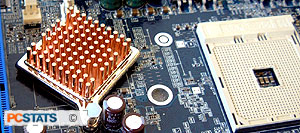 While we love the fact that the Northbridge has a copper heatsink on it, it was quite small and did get quite warm during testing.
Perhaps Albatron would be kind enough to slap a small 30x30 fan to transform this passive heatsinks into an active one? It may not really require it, bearing in mind that virtually every K8T800 chipset we've seen is passively cooled, but it certainly can't hurt.
Four extra USB2.0 headers come in one bracket that attaches to any spare PCI slot in the computer chassis for a little extra expansion room. The floppy drive header is in the very unpopular below-the-last-PCI-slot position that can make installation a little difficult for users looking to install the Albatron K8X800 ProII into a larger case like the AOpen HX80.
For mid-size towers the position works out perfectly, and enables the cable to lie flat along the motherboard tray before jumping up to the floppy disk drive.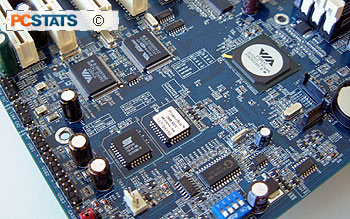 The Albatron K8X800 Pro II incorporates VIA's brand new Envy 24PT 7.1-channel audio controller. The Envy 24PT is a huge step up from VIA's old 5.1 AC'97 codec, and on paper apparently surpasses nVIDIA's Soundstorm.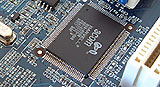 The Envy24PT is a 24bit audio chip which supports up to 96 kHz sampling frequency, among other audio goodies. The controller supports a 7.1 speaker setup (seven satellites, one subwoofer) and even supports Dolby Digital and DTS!
I ran a quick test by plugging my headphones into the K8X800 to test the sound quality of the system, and from what I could hear, it sounded every bit as good as the audio that comes out of my Audigy 2 PCI soundcard.