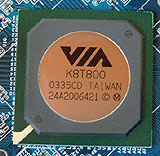 VIA's very popular chipset for the Athlon64 is called the K8T800, and it is offered in two varieties; a server/workstation version for the socket 940 Opteron/Athlon64 FX processor, and the Performance PC platform for the socket 754 Athlon64 CPU.
Both versions of VIA's core logic typically come bundled with the new VT8237 Southbridge. The major selling point for VIA's chipset is that it features a faster Hypertransport link (800Mhz DDR for an effective 1.6Ghz) between the CPU and the chipset than the offerings from the other companies like Ali and Nvidia.
As the K8T800 uses a 16-bit (meaning 16bits of data in each Hypertransport packet) link, this enables the path to reach a maximum bandwidth of 3.2GB/s (1.6Ghz * 16 / 8) in each direction for a rather impressive maximum theoretical bandwidth of 6.4GB/s. VIA proposition that problems with signal interference have forced many of their competitors to resort to using lower speed implementations of Hypertransport, a problem which they have resolved with their "Hyper8" technology.
Socket 754, and new Thermal Solutions for the Athlon64
With the release of the Athlon64 we are finally saying good bye to the venerable Socket 462/A platform. AthlonXP 3200's and Athlon64 3200's may only differ in name slightly, but the physical changes are enormous. To accommodate the nearly 106 million transistors packed into a 193mm2 die on the Athlon 64 3200+ processor, and the roughly 80W heat output, AMD have migrated to an entirely new cooling platform.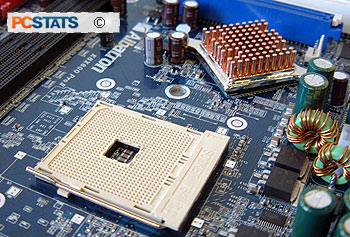 The plastic retention frame now used with every Athlon64 processor, on both Socket 754 and Socket 940, is made of glass-filled Lexan, and provides a very firm place for the Athlon64 heatsink to grip onto.
Curiously, the Albatron K8X800 Pro II we received for testing lacked the frame, but that shouldn't be a problem as virtually every heatsink being sold for K8 processors does come with one.
The new K8 heatsinks apply upwards of 75lbs force on the Athlon64 processor so there is one more piece of the equation which is new to the AMD arena. Round back of the motherboard you will find a metal plate about the size of a deck of cards. It is called the "backplate sub-assembly" and it is placed directly behind the socket to keep the motherboard from warping.