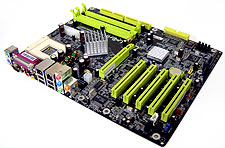 I think it's safe to say that DFI has produced the ultimate AthlonXP motherboard for enthusiasts and gamers alike. In the process DFI have shed their old image, and truly become a consumer-friendly manufacturer.
With a retail price of $200 CDN ($155 US), the DFI LANParty NF2 Ultra B motherboard is one of the more expensive AthlonXP motherboards on the market, but it's clearly the best, and one I would recommend without a second thought.
In terms of on board features the board has Serial ATA/Serial ATA RAID, nVIDIA SoundStorm 5.1 audio, 10/100 and Gigabit LAN, and IEEE 1394. Things don't stop there though; DFI also include bright green UV reactive cables (IDE and floppy), a front panel USB/IEEE 1394/Audio drive bay as well as their PC LAN party computer PC Transpo carrying strap!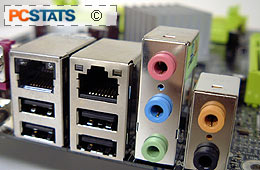 The design of the motherboard is also very good, almost everything is placed in their most ideal location. I would have liked to see DFI use an active cooler on the Northbridge as it does get very hot.. but other than that, and the ever-decreasing importance of IDE vs. SATA hard drives there really isn't much to complain about.
Performance of the motherboard is simply top notch and it's easily the fastest AthlonXP motherboard we've tested! The DFI LANParty NF2 Ultra B simply flew through all the benchmarks and if you're an AMD enthusiast you'll love how well the motherboard overclocks too. With an AthlonXP 3200+ wer were able to hit an amazing 246 MHz FSB which is almost impossible for other nForce2 boards to reach. I have seen a few people hit 250+ MHz FSB but all the motherboards were modified. DFI was even kind enough to include the four adjacent mounting holes around the CPU socket so you can mount the larger socket A coolers without any difficulties.
If you're looking for that one great AthlonXP motherboard, look no further as the DFI LANParty NF2 Ultra B has everything you'll ever want. From excellent hardware bundle (on board and extras) to awesome performance, it's impossible for one to ask for more out of a retail motherboard!
PCStats highly recommends the DFI LANParty NF2 Ultra B Motherboard for the AthlonXP, heck, I'd use this board in my main rig any day!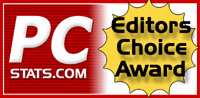 Find out about this and many other reviews by joining the Weekly PCstats.com Newsletter today!

Related Articles

Here are a few other articles that you might enjoy as well...

2.