Did we happen to mention that the DFI LANParty nForce2 Ultra B motherboard was overclocker friendly?
pcstats heatsink clearance measurements
top clearance:
8 mm
bottom (cam) clearance:
7 mm
left side (arm) clearance:
24 mm
right side clearance
22 mm
socket mounting holes:
4 mm
max. heatsink base dimensions:
~96x97 mm

Note: Approx. measurements are made from the edge of the socket (not the clips) to the closest obstacle taller than the ZIF socket itself.

The socket is 51mm across, and 62mm from top to bottom.
There's plenty of space to install the largest AMD heatsinks although the Zalman CNPS7000 series of HSF's may have a hard time because of the socket's close proximity to the top and side of the case.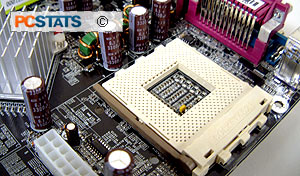 The four mounting holes means that you can install those hardcore water blocks or larger coolers if you wish.