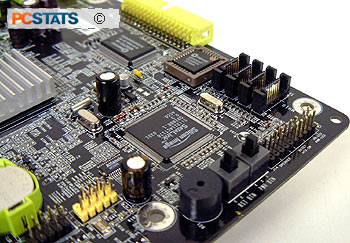 Since many enthusiasts and gamers have case windows, DFI have built the NF2 Ultra B with an eye towards design; the green sockets are all UV sensitive, and the black PCB just looks cool. under an ultraviolet Cold Cathode light, the sockets fluoresces bright green, which makes the NF2 Ultra B really stand out from behind a case window.
The NF2 Ultra B motherboard has been laid out in the best possible way for overclockers and enthusiasts. When we spoke with DFI about this, they mentioned that the component layout had been revised on comments received from consumers...
This is why we find extra space around the AGP socket, the floppy connector folded over 90 degrees, mounting holes around the processor socket, and why all bracket headers are at the very bottom of the PCB.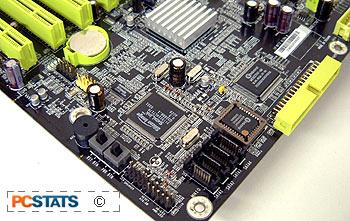 The main ATX power connector is to the right of the DIMM slots, but more importantly it's also close to the MOSFET's which should allow for the board to provide stable voltages to all other devices. The NF2 Ultra B is a nicely labelled PCB; from the fan headers to Serial ATA ports to IEEE 1394 connectors, if there's a connector, there will be a name tag close by. Makes it much easier when installing hardware, or connecting up brackets.
For the tweaker out there who likes to test all the hardware before they assemble it into a case, they'll find the on-board power and reset buttons a life saver. No longer do you have to short two jumpers with a paper clip!
Nvidia Soundstorm Audio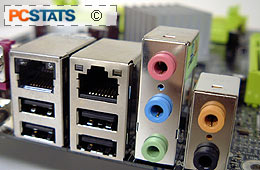 For those audiophiles out there you'll be happy to hear that the DFI LANParty NFII Ultra B features nVIDIA's awesome SoundStorm audio controller care of the MCP-T southbridge which will give you 5.1-channel goodness.
We've tested the quality of the audio in the past and it's top notch, unlike a lot of the integrated soundcards on the market you will won't need to buy yourself a new soundcard. To make things even better, DFI has included RCA jacks (SPDIF in and SPDIF out) just bellow the parallel connector so you can hook up your high end audio gear! To the right of the Ethernet jacks are the connectors for 5.1-channel speakers (front right/left, sub/center, rear right/right)