DFI is particularly proud of their CMOS reloaded BIOS application. Basically, CMOS Reloaded allows you to save various overclocked settings so they can be reloaded at a later date.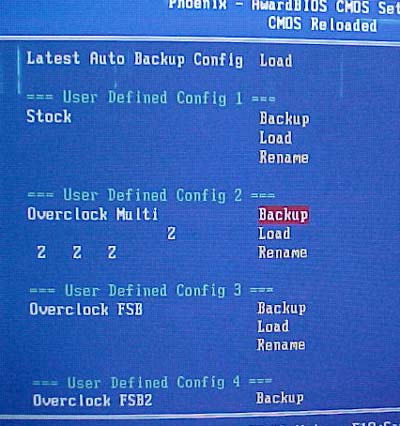 CMOS Reloaded is a great feature for the hardcore tweaker/gamer who uses various settings for different applications, or games. It's also handy to save your BIOS settings so if you have to clear the CMOS they're there waiting for you to be reloaded and adjusted.
Taming the Beast!
With all those voltage options we were expecting some big numbers from the DFI LANParty nForce2 Ultra B motherboard and we were not to be disappointed!
The first thing we did was lower the multiplier to 8x so the processor would not bottleneck the motherboard, then we started to raise the FSB. At around 213 MHz FSB we ran into some stability problems but that was quickly solved by raising the DIMM voltage to 2.8V. At 227 MHz FSB we again ran into stability problems... though this time though we had to raise the chipset voltage to 1.8V to clear things up.
At 235 MHz FSB we had to raise the memory voltage again, this time to 3V. We seemed to hit the wall at 246 MHz FSB, anything higher than that and the system would not POST. Having a hunch that the problem was heat, just to test I pointed a fan at the Northbridge, and as expected we were able to eek out a bit more from the board!
With an active cooler on the Northbridge the maximum FSB we could run while maintaining stability was 250 MHz FSB, but since that's not stock we ran all the benchmarks at 246 MHz FSB. With appropriate cooling I can see the NF2 Ultra B doing 260+ MHz FSB with relative ease. Now for the benchmarks!