Abstract: While it is common knowledge that the Radeon 9800XT GPU is one fast little chip, what really sets the Asus A9800XT/TVD/256 apart from the competition is the impressive software bundle it ships with.


86% Rating:

Home > Reviews > Video Cards > ASUS A9800XT/TVD/256
Cooling and Software Utilities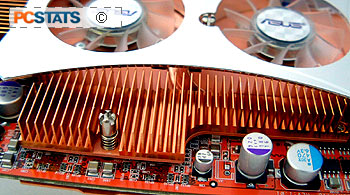 It's no surprise that Asus follows the reference designed ATi Radeon 9800XT with the exception of the additional ATi Rage Theatre chip on the back. Like the A9600XT we reviewed earlier, the Asus A9800XT/TVD/256 uses an orange PCB; personally I like the red PCB a bit better, but orange does go well with the copper heatsinks.
The HSF that Asus uses to cool their A9800XT/TVD/256 is a custom solution which employs two small 40x40mm fans instead of a larger single 80x80mm fan found on most other Radeon 9800XT's. It produces a bit more noise than the reference cooler but considerably less than the reference HSF on the GeForceFX 5950 Ultra videocards. Enthusiasts will be happy to hear that Asus use thermal paste between the heatsink and memory. The Asus A9800XT/TVD/256 did run about 3 degrees Celsius cooler while under load compared to the reference ATi Radeon 9800XT also.
The Software Side
These days all manufacturers copy reference videocard designs down to a tee, after all why spend time and money on R&D trying to improve on something that already works? Some companies will use their own special cooling system, but the actual card layout is virtually identical in most cases. This is where most manufacturers have a dilemma, how are they going to separate themselves from their competitors without raising prices? The easy answer is software, you can use the software package to give yourself an identity.
The software suite that comes with the Asus A9800XT/TVD/256 will certainly be difficult for anyone else to beat! Yes, almost all 9800XT's come with a Half Life 2 coupon, but Battle Engine Aquaila and Gun Metal will keep you busy for a while too. Things don't end there either; Asus include a whole host of custom utilities and programs like the "Smart Doctor" videocard monitoring and "Game Face" software which allows you to see your opponent while playing online! Pretty cool eh?
Smart Doctor:
More than just regular videocard monitoring software, Smart Doctor can tell you a lot about your videocard. From temperatures to fan RPM monitoring, and even voltages!
For those of you who are into overclocking, the ability to monitor voltages is very important. From the Vcore voltage to the VDD, it's nice to be able to check and make sure everything is ok when your system is on.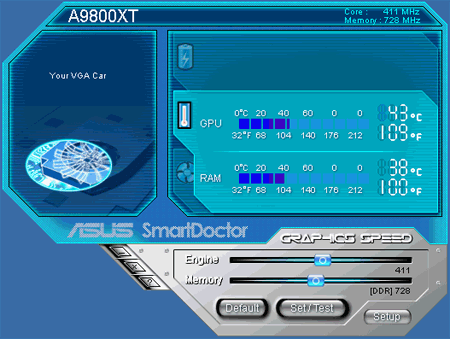 Here Smart Doctor not just monitors the temperature of the Radeon 9800XT core, but also the memory! I'm not sure how Asus managed that, but it's very reassuring to know how warm the memory is running. Smart Doctor seemed pretty accurate too, as the memory was certainly not very hot to the touch.