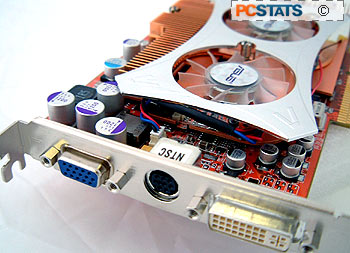 Even though the A9800XT/TVD/256 is already one of the fastest videocards in the world, that doesn't mean we're going to spare it from our overclocking tests. ;-)
It's pretty amazing to see how well the R300 core has scaled in the last year and a half, especially considering it's built on a larger 0.15 micron manufacturing. Originally clocked at 325 MHz (Radeon 9700 Pro), it has now scaled to 412 MHz (9800XT) thanks to a more refined manufacturing process, and a modest voltage increase.
As usual, we started to raise the core clock speed first, and inched up from stock 412 MHz. Things were pretty uneventful until we hit 452 MHz, where unfortunately the core would start to artifact when running 3DMark2001. When we eased down to 449 MHz core speed things improved. It's not the highest 9800XT overclock we have seen, but it's certainly nothing to scoff at either.
The A9800XT/TVD/256 uses 2.5ns Hynix BGA DDR RAM, so we anticipated that the memory should be good up to about 400 MHz. Starting at its default speed of 365 MHz we increased the memory frequency a few MHz at a time, but unfortunately our overclocking didn't go past the 380 MHz mark. I'm not really sure what was holding us back, as the memory even under load was only running around 40 degrees Celsius.
We were pleased to see that the core and memory played nicely together, it seems ATi cards do not have the same problem nVIDIA cards do when overclocked. Now for some benchmarks!

PCStats Test System Specs:
processor:

intel pentium 4 3.0c

clock speed:
15 x 200 mhz = 3.0 ghz
motherboards:

gigabyte 8knxp, i875p

videocard:

ati radeon 9800xt
ati radeon 9800 pro
ati radeon 9700 pro
asus radeon 9600xt
msi fx5950 ultra-vtd256
msi fx5900u-vtd256
msi fx5900xt-vtd128
gigabyte gv-nv57u128d
asus a9800xt/tvd/256

memory:

2x 256mb corsair twinx 3200ll

hard drive:
40gb wd special ed
cdrom:
nec 52x cd-rom
powersupply:
vantec stealth 470w
software setup

windowsxp build 2600
intel inf 5.02.1012
catalyst 3.9
detonator 53.03

workstation benchmarks

3dmark2001se
codecreatures
aquamark
aquamark3
gun metal 2
x2 the threat
ut2003

aa test, af and aa+af test
3dmark2001se
x2 the threat
ut2003