The fan RPM monitoring was the only place where we were disappointed at Asus.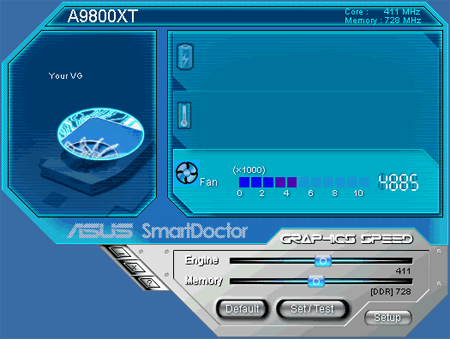 There are two fans on the A9800XT/TVD/256, yet we can only monitor the RPM on one? We stopped the second fan on the A9800XT/TVD/256 with our finger and Smart Doctor didn't say a thing.

Smart Doctor has an overclocker utility built into the software, and you can raise the core and memory to 440/770 MHz. It's a bit restrictive, so enthusiasts will probably want to use a 3rd party tweaker to get more out of the card.
Asus Game Face Software:
One really cool feature that's native to Asus cards only is their "Game Face" software. Now when you're gaming online you can let other fellow Asus videocard owners see who they're playing against. All you need is a video device that hooks up to either the S-Video or Composite connectors and you're set. Unfortunately Game Face does not work with those USB web cams, but perhaps Asus will support them at some point in the future.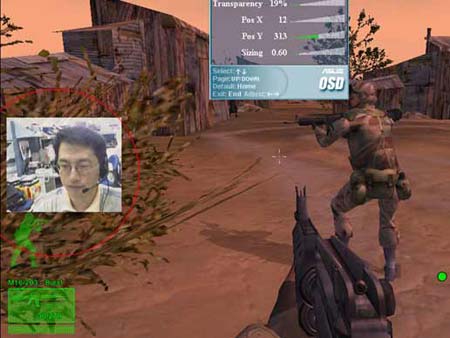 Both pictures courtesy of the Asus website
You can place the Game Face window pretty much anywhere on the screen and change its transparency and size. What's even better is you an also get sound, I guess it is possible to watch TV and play games at the same time! ;-)
Game Face works independently from the actual game so it should work with pretty much every title out there!