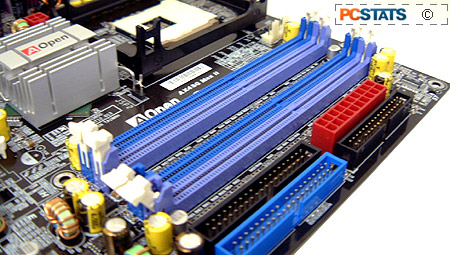 The IDE/Floppy and main ATX power connectors are positioned on the board in their most ideal location, just to the right of the DIMM slots. I wish every manufacturer would place those ports there...
It's nice to see that all six Serial ATA ports are all neatly packed together near the bottom right of the motherboard. Sitting at the edge, they do not interfere with any of the other system devices in the PC, and it's easy to get at them. To help keep cable management nice and clean, AOpen place the IEEE 1394 and USB headers at the bottom of the motherboard too. The Game port header is just under the second PCI slot and the COM port just below the first PCI slot.
To keep installation simply, AOpen have taken to colour coding and labeling the positive values on the front panel I/O connectors (the small wires which hook up to the controls on the front of a case).
We're happy to see that AOpen have placed a fan header just above the AGP slot. With many people using third party heatsinks for their high end videocards, it only makes sense. Next to the fan header is also a two pin connector which can be connected to a thermistor for temperature monitoring, unfortunately AOpen does not seem to include one with the board.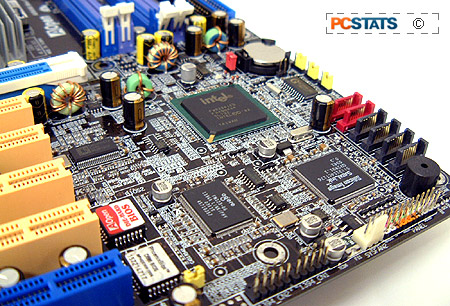 It's pretty amazing how user friendly computer components are these days, I remember when I first toyed with computers I killed my motherboard because I hooked up the AT power supply cables backwards once.
Of course that was a long, long, long time ago and I'm not such a klutz anymore :-) Still, as each manufacturer has their own way of doing things, it's still nice to not have to refer to the manual when installing each component.
The red 'Clear CMOS' jumper stands out and you'll have no trouble identifying it should you need to clear your CMOS after overclocking too far. Despite having a very busy PCB, you're going to find just about everything is labelled on the AX4SGMax II.
It's great that the AX4SG Max II is full of features, but we're extra happy to see that AOpen included almost all the necessary brackets and cables to take advantage of them. The only thing they're missing are four Serial ATA power cables.
A pretty comprehensive software bundle is also bundled in, with good anti-virus software too. The bundle includes Pro Magic 6.0, which is great for backing up and restoring data. Even better yet is AOpen's decision to include Norton Anti-Virus 2004. With N.A.V. 2004 your system should be safe from even the most malicious viri on the web! It's nice to see a company look out for its users, I definitely encourage every other manufacturer to follow AOpen's lead here!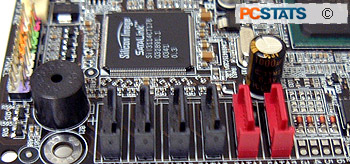 Oooo, six Serial ATA headers!
There's not too much to complain about with the AX4SG Max II, but I guess I would have liked to see an active cooler on the i865G Northbridge as it does get hot during some of the more intensive benchmarks. I was a bit disappointed to see that AOpen decided to go with the ICH5 on the AX4SG Max II instead of the ICH5R....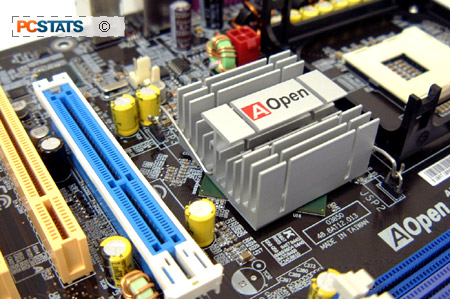 Not having to run the Serial ATA channels through the PCI bus means that an Intel RAID controller would be faster than your conventional Serial ATA controller.
How did the AX4SGMax II overclock?
Having not played with an AOpen motherboard in a while, I wasn't sure where the overclocking tests would lead. Seeing as any motherboard with onboard video is essentially targeting the system integrators, I didn't expect it to break any FSB records.
So, starting at 200 MHz FSB, I slowly raised the clock speed of the motherboard a few MHz at a time...
At 210 MHz FSB we ran into a few problems but that was solved by raising the AGP (and i865G chipset) voltage to 1.65V. Surprisingly the AX4SG Max II topped out at a relatively low 213 MHz FSB. Raising the CPU or memory voltage above stock did not help stabilize things nor did raising the AGP voltage higher! It's not the highest overclock we've seen, but AOpen has never really been an enthusiast brand. Next up, a look inside the AX4SGMax II's BIOS features.