A completely rewritten 3D engine based on DirectX8 encompasses many visual effects such as volumetric Nebulae (gas clouds) that have a real impact in the game (you can hide in them), many new engine, shield, weapon and explosion effects. Objects cast real dynamic 3D shadows! Dynamic DP3 bump mapping allows a previously unseen level of detail.
X2: The Threat Benchmark Results 640x480-32bit
Motherboard
FPS
Ranking
DFI LANParty 875B
137.141

Albatron PX865PE Pro II

136.177
Gigabyte 8IPE1000 Pro2-W
137.11
Gigabyte 8S655TX Ultra
138.64
AOpen AX4SG Max II
137.131
AOpen AX4SG Max II (i865G)
N/A
AOpen AX4SG Max II (213/426)
142.326
We ran into an odd problem here, X2: The Threat is a DX9 game, but would run on the Intel Extreme Graphics 2. The thing is, it would lock up and blue screen about 30 seconds in the benchmark section. When an AGP graphics card is used, everything here looks normal of course.
Unreal Tournament 2003

Source: Epic
Unreal Tournament 2003 is the sequel to 1999's multiple 'Game of the Year' award winner. It uses the very latest Unreal Engine technology - where graphics, sound and game play are taken beyond the bleeding edge. Unreal Tournament 2003 employs the use of Vertex as well as Pixel Shaders and it's recommended that you use a DirectX 8 videocard to get the most out of the game.
UT2003 - 640x480
Flyby
FPS
Ranking
DFI LANParty 875B
240.34

Albatron PX865PE Pro II

228.13
Gigabyte 8IPE1000 Pro2-W
239.15
Gigabyte 8S655TX Ultra

179.97

AOpen AX4SG Max II

244.09

AOpen AX4SG Max II (i865G)
45.04
AOpen AX4SG Max II (213/426)
256.57
Botmatch
FPS
Ranking
DFI LANParty 875B
83.67

Albatron PX865PE Pro II

83.45
Gigabyte 8IPE1000 Pro2-W
82.57
Gigabyte 8S655TX Ultra

83.41

AOpen AX4SG Max II

83.64

AOpen AX4SG Max II (i865G)
29.41
AOpen AX4SG Max II (213/426)
86.15
UT2003 seems to like the AOpen AX4SG Max II motherboard quite a bit. It even runs with the integrated videocard!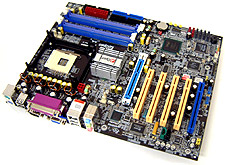 AOpen's AX4SG Max II is quite an interesting solution, it's fast and powerful like a Pentium 4 C motherboard should be, but with integrated video, it's also great for those building cash-strapped systems!
For $221 CDN ($169 US) you get yourself one heck of a motherboard; AOpen include everything except the kitchen sink with this board! There's on board Intel Extreme 2 Graphics, IEEE 1394, 7.1 audio, Intel CSA Gigabit LAN, a four port Serial ATA RAID controller (+ 2 native SATA ports) and dual BIOS! On the software side AOpen also include a full copy of Norton Anti-Virus 2004 which is great for safe guarding your PC from viruses. When the desire to upgrade hits you, the five PCI and lone 8x AGP port should satisfy your upgrading needs.
The layout of the board is excellent and extremely user friendly, they certainly did all the little things right! I like how all the Serial ATA ports are stacked together on the bottom right hand corner and the placement of the fan headers are in their most ideal location. My only real complaint is that AOpen should have gone with the ICH5R southbridge instead of the ICH5. And if you're an enthusiast looking to break the speed records with liquid chilled overclocking, you'll probably want to get something else. AOpen boards have never been too big on overclocking, and while the AX4SGMax II has a lot going for it, it doesn't break this trend.
Stock performance of the board is good, but memory bandwidth seemed a bit on the low side - not that it affected any of the other benchmarks really. While not great for 3D apps, the Intel Extreme Graphics 2 works just fine with 2D applications, and the 2D display quality was very good. When a Radeon 9800 Pro was plugged into the 8x AGP port, 3D performance was on par with the other i865PE/i875P motherboards.
Overall, AOpen did a bang up job with the AX4SG Max II, it's an excellent board full of features. Price is a bit on the high side, but did you see what's included with the board? It's got everything!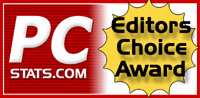 Here are a few other articles that you might enjoy as well...