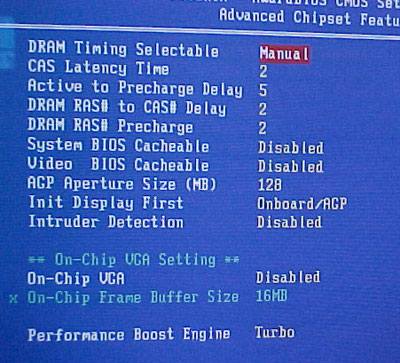 AOpen allow the end user the usual memory tweaks we'd expect from a Pentium 4 motherboard - no real surprises here with CAS Latency, RAS to CAS, Act to Precharge and of course RAS Precharge options.
We can also change the AGP aperature size, or even disable the onboard videocard if desired. Finally the i865G based AX4SG Max II does support PAT, and it can be turned on via the Performance Boost Engine.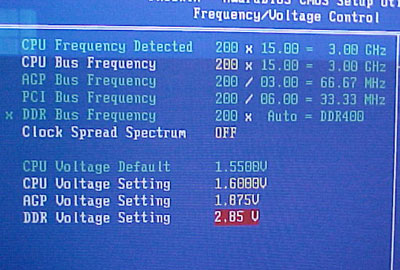 AOpen's Frequency/Voltage Control menu is very straight forward and easy to use. FSB goes as high as 400 MHz which should be good enough for anyone. CPU voltages go as high as 1.6V, AGP (chipset) to 1.875V and DDR to 2.85V. There are the usual 1:1, 5:4 and 3:2 memory dividers as well. Now for the benchmarks!

PCStats Test System Specs:
processor :

intel pentium 4 3.0c

clock speed:
15 x 200 mhz = 3.0 ghz
15 x 213 mhz = 3.2 ghz
motherboards:

dfi lanparty 875b (i875p)
albatron px865pe pro ii (i865pe)
gigabyte 8ipe1000 pro2-w (i865pe)
gigabyte 8s655tx ultra (sis 655tx)
albatron px875p pro

videocard:

ati radeon 9800 pro

memory:

2x 256mb corsair twinx3200ll

hard drive :
40gb western digital special ed.
cdrom:
nec 52x cd -rom
powersupply:
vantec 470w stealth psu
software setup

windowsxp build 2600
via 4in1 4.49
catalyst 4.2

workstation benchmarks

sysmark 2004
business winstone 2002
content creation 2002
winbench 99
sisoft sandra 2004
super pi
pcmark2002
3dmark2001se
aquamark3
comanche 4
x2: the threat
ut2003