AOpen AX4SG Max II i865G Motherboard Review
---
Just when you thought things had settled down, news that good ole DDR RAM is beginning to go the way of the Dodo (on the Intel platform anyway). This won't happen for a while, but when Intel releases their next generation DDR-2 chipsets, it's as they say "inevitable." Even though DDR2 doesn't hold any performance advantage over traditional DDR memory at the moment, it's one of the several new technologies Intel are introducing all at once.
Along with DDR-2 comes PCI Express, a new Pentium 4 formfactor called LGA775, and further down the road BTX cases. Out goes AGP, ATX cases and regular DDR memory; quite a hard pill to swallow, but luckily there is still time to revel in fast hardware that doesn't require you to upgrade everything under the sun! The Intel Canterwood chipset still has plenty of life left in it, and i865G solutions make a good choice when speed, and cost are of equal importance. With that in mind, in this review we'll be testing out AOpen's brand new i865G-based Intel Pentium 4 AX4SG Max II motherboard!
Boasting the i865G's capable set of integrated graphics, businesses, governments and schools interested in powerful systems that do not require any 3D rendering capabilities would be well suited for a motherboard such as the AOpen AX4SG Max II. It retails for about $221 CDN ($169 US), and brings to the table all the raw computing power of higher end systems, but actually saves money because an external videocard is not required. The AX4SG Max II has a 8x AGP port, so a graphics card can still be added if desired.

AOpen AX4SG Max II Motherboard



Includes:
One Ultra/133 IDE cable, one Ultra/33 IDE cable, one floppy drive cable, two Serial ATA cables, two molex to Serial ATA power converters, I/O backplate, RAID driver diskette. IEEE 1394/ USB Bracket, Audio Bracket, Game/Serial Port Bracket, Driver CD, Norton Antivirus 2004, Users Manual, Quick Installation Guide
Looking at the long list of features which accompany the AOpen AX4SG Max II, the item that stands out the most is undoubtedly the support for up to six SATA devices! The board supports any Socket 478 Pentium 4, from the lowly 400MHz FSB Pentium4 1.5 GHz Williamette to the flagship 800MHz FSB Pentium 4 3.4 GHz Extreme Edition. Incidently, if you're wondering what the last blue PCI slot is all about, it's designed to be used with high powered PCI cards.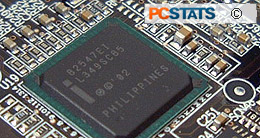 It's four DIMM slots handle as much as 4GB of PC3200 unbuffered DDR RAM, in dual channel configuration of course. The AX4SG Max II also comes with IEEE 1394 connectivity for high speed external devices, like camcorders or external hard drives, though there are still plenty of USB 2.0 jacks as well. Network connectivity comes care of the very capable Intel CSA Gigabit LAN chip, and with thee jack sensing audio ports built right in, and an additional audio bracket, 7.1 audio (albeit AC'97 codec) is also available.
Redundancy comes in the form of dual BIOS's, and with the four-port Silicon Image Sil3114CT176 Serial ATA RAID (modes 0, 1 and 0+1) controller. Despite the high level of integration already present, the AX45SG MaxII still offers up five 32-bit PCI slots for future expansion.
AOpen motherboards have always been very user friendly and the AX4SG Max II is no different. In fact it seems like AOpen has taken to heart a few of our past comments; for instance the CMOS battery no longer stands on its side anymore, now it lays flat against the motherboard where there is no chance of accidentally snapping it off. There are quite a few more onboard goodies, so let's look at those next.