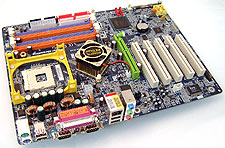 When we reviewed the original Gigabyte 8IPE1000 Pro 2 motherboard we were generally pleased with what we saw. It was not the most well equipped motherboard on the market but it was aggressively priced and great for those who don't need a lot of unused frills.
With wireless networking growing exponentially, it's high time that motherboard manufacturers are bundling it in with their boards.
The rehash the Gigabyte 8IPE1000 Pro 2 into the 8IPE1000 Pro2-W was just a natural step in that evolution, and the addition of a 802.11b wireless network adapter adds a lot of value to the entire package.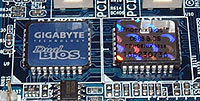 If wireless is not for you right now don't fret, the Gigabyte 8IPE1000 Pro2-W stil packs in a mighty dose of Gigabit LAN care of the Intel CSA chip. Other standard features you'll want to take notice of include a 5.1 channel soundcard, IEEE 1394 and dual BIOS'.

Unlike some other i865PE/i875P based motherboards on the market right now, it is important to realize that the Gigabyte 8IPE1000 Pro2-W is fully Prescott compatible. If you're buying a new Pentium 4 processor in the future, this is something to watch out for.

The design and layout of the Gigabyte 8IPE1000 Pro2-W is well executed, and you can't beat the software bundle which includes Norton Internet Security 2003. Setting up the wireless LAN was extremely easy; but the GN-WBZB-M only supports WEP 64 and 128 bit encryption right now. I'd expect Gigabyte to release a WPA compatible driver any day now though.

Performance of the 8IPE1000 Pro2-W was good, but that's expected since it's based around the venerable i865PE chipset. On this board, PAT was enabled incidently. With PAT it easily kept up with the i875P test motherboards, and proved to be a respectable overclocker as well.

We're not sure how much the board retails for, but you can bet it will be inline with the price for the 8IPE1000 version, bearing in mind the wireless adaptor will add on a few dollars. Bottom line, the Gigabyte 8IPE1000 Pro2-W is a well rounded motherboard and would keep even the most demanding user happy.

Find out about this and many other reviews by joining the Weekly PCstats.com Newsletter today!

Related Articles

Here are a few other articles that you might enjoy as well...

1. Gigabyte GA-8TRS300M Radeon 9100 IGP Review


2. Gigabyte GA-8S655TX Ultra Motherboard Review