To access the Advanced Chipset Features you must first press Ctrl + F1 to unlock this menu.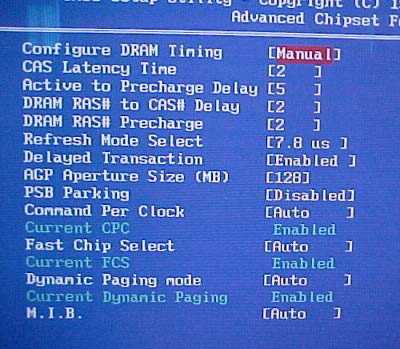 Once inside we have all the usual memory tweaks we'd expect from a high performance motherboard. CAS Latency, RAS to CAS Delay and even RAS Precharge. There are also a few Intel only memory tweaks like CPC, Fast Chip Select and Dynamic Paging Mode. M.I.B. is Gigabyte's name for PAT and it is possible to turn Performance Accelerating Technology on.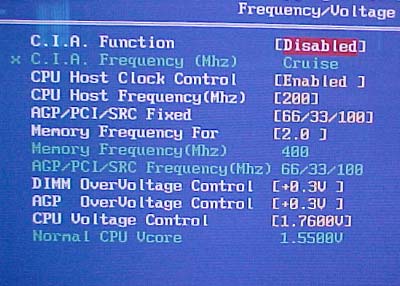 CIA (CPU Intelligent Accelerator) is Gigabyte's automatic overclocking function... but who turns that thing on? ;-) It takes the fun away from overclocking IMHO.
You can adjust the FSB from 200-355 MHz in 1 MHz increments while keeping the AGP/PCI/SRC (Serial ATA) frequencies locked with the options on the screen above. There are the usual 1:1, 5:4 and 3:2 memory dividers and here are the voltage options. 2.8V max VDIMM, 1.8V max AGP and 1.76V maximum CPU voltage. Not the highest voltages we've seen but it should be good enough for the novice/average overclocker.
Riding along at 225MHz....
Gigabyte build their motherboards for mainstream users, so overclocking is more of an added bonus. Keeping that in mind we didn't really have too high of an expectation for the GA-8IPE1000 Pro2-W. Starting at 200 MHz FSB I slowly started to raise the speed a few MHz at a time. At 213 MHz we had to increase the DIMM voltage to 2.7V to stabilize things. At 220 MHz we started to experience problems again and had to up the CPU voltage to 1.6V.
In the end, I maxed out with a speed of 225 MHz FSB, not bad considering we're using a P4 3.0C that's not very overclockable.