If you haven't already set up a wireless router or networking access point in your home or office, chances are you will within the next 6 months. Wireless networking is becoming so prevalent, and so easy to set up, that there isn't much of a reason not to.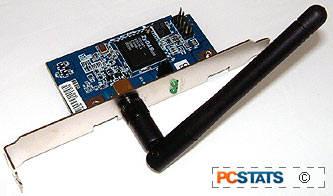 Data speeds are comparable to wired 10/100 networks, and the freedom of networking without wires is very compelling.
Gigabyte include the little GN-WBZB-M USB 802.11b wireless network card with the GA-8IPE1000 Pro2-W motherboard; it plugs directly into one of the internal USB headers on the motherboard with a short cable, and screws into any free PCI bracket. A removable dipole antenna, screws in and projects outside the case.
Since the USB GN-WBZB-M does not plug into a proprietary slot, it's compatible with any motherboard! To test this, we tried the GN-WBZB-M with two other motherboards and it worked flawlessly. Pretty cool. It's great to see that Gigabyte aren't limiting the adaptor to just their motherboards by using proprietory USB header pin-outs.
The software that accompanies Gigabyte's wireless NIC is quite basic, but it gets the job done on all important fronts; SSID, WEP, and basic security.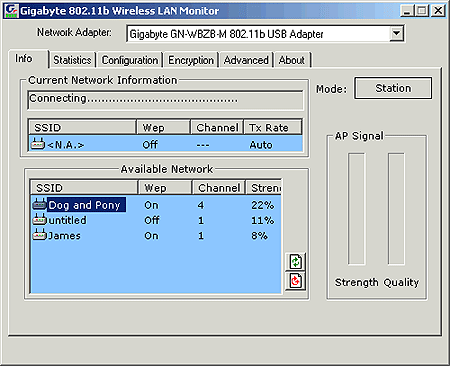 Here as you can see there are three wireless LAN's within the GN-WBZB-M's range. Two are WEP protected while one is not, in theory if we wanted to connect to the unsecured network, we could.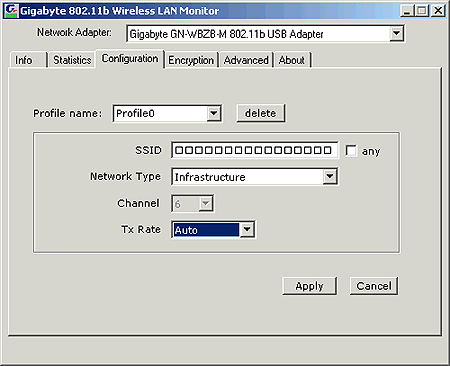 Pretty general information about the wireless LAN from the SSID name to being able to specify the network card's transfer rates.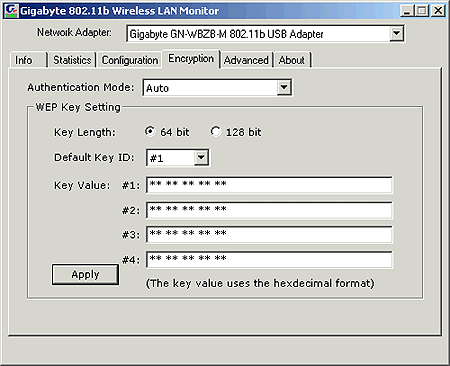 The drivers that accompany the GN-WBZB-M only allow for 64bit or 128bit WEP (Wired Equivalent Privacy) encryption, and not the more secure WPA (WiFi Protection Access). Since all that is needed for WPA is a driver update and a patch for WindowsXP, we expect Gigabyte to release a new driver which supports the new WPA encryption.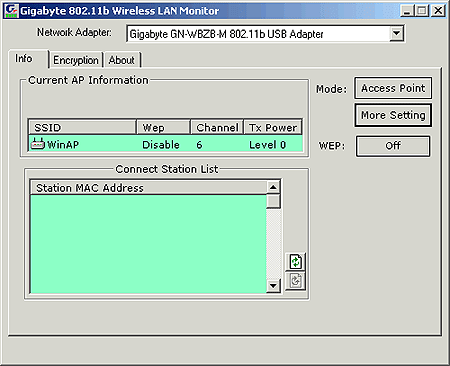 Lastly the GN-WBZB-M can be turned into a Wireless Access Point which is great if you want your wired and wireless networks to coexist.