PCStats Test System Specs:
processor:

intel pentium 4 2.4c

clock speed:

12 x 300 mhz = 3.6 ghz
12 x 318 mhz = 3.82 ghz
12 x 340 mhz = 4.08 ghz

motherboards:

abit ic7-max3*

videocard:

ati radeon 9800xt

memory:

2x 256mb corsair xms3500 cas2

hard drive:
20gb western digital 7200 rpm
cdrom:
nec 52x cd-rom
powersupply:
pc power & cooling turbocool 510
software setup

windowsxp build 2600
intel inf 5.00.1012
catalyst 4.2

*i875p northbridge was watercooled
for all overclocking tests.
while it's great to know the various forms of cooling available to the enthusiast, today we're going to show you how they scale against each other. We'll be focusing on a Pentium 4 platform but you should expect similar results with an AthlonXP/Athlon64 based system as well.
Arctic Silver Ceramique thermal compound was used for all tests, and each test configuration was allowed to sit for five days (per test) to allow the thermal paste to cure before any the temperatures, or maximum overclocked speeds were noted.
Ambient temperatures varied from 20-22 degrees Celsius, and the CPU temperatures were taken with the Winbond Hardware Monitor. This is certainly not the most accurate method of taking temperature readings, but should be good enough for ball parking what to expect... After all, overclocking isn't an exact science.
Cooling with Heatsinks and Fans - Air cooling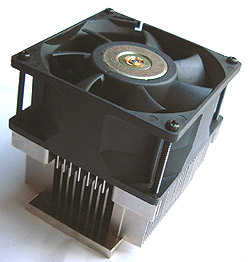 Heatsinks have come a long way from the puny little things used on P133 class processors just a few years ago. Current coolers have to cope with updwards of 100W heat loads, and many are now made with an exotic blend of aluminum extrusions, copper, heatpipes, and radically advanced fans.
The Impact of Airflow
Heatsinks for high performance processors are designed to be used with forced-air cooling, which means they require fans.
The more air that passes along the fins of the heatsink, the better the heatsink's ability to draw heat away from the processor and get rid of it. So as a far as enthusiasts are concerned, the bigger and faster the fan (CFM), the better.
The attraction of air cooling is that it doesn't require a large monetary investment. A really nice overclockers heatsink will general costs less than $100CDN, which makes it quite affordable compared to the $300-400 investment you would need to spend for a decent watercooling setup.
For the following overclocking tests with a heatsink, we used the Thermalright AX-478 heatsink equipped with an 80x80x38mm Vantec Tornado fan (which pushes 84 CFM of air). The AX-478 is a bit old, but it's still easily one of the better heatsinks on the market. Team that thing up with a Vantec Tornado and you've got yourself an impressive air cooled combo. Better put your ear muffs on though....this configuration is in the 60-70 dBA noise range!
Overclocking Results
With high end air cooling we were able to hit a maximum speed of 3.6 GHz with a small voltage increase (1.6V) while maintaining 100% stability in the benchmarks; Prime95, etc.
Raising the voltage past 1.6V did not help us overclock any higher, and was actually detrimental in fact.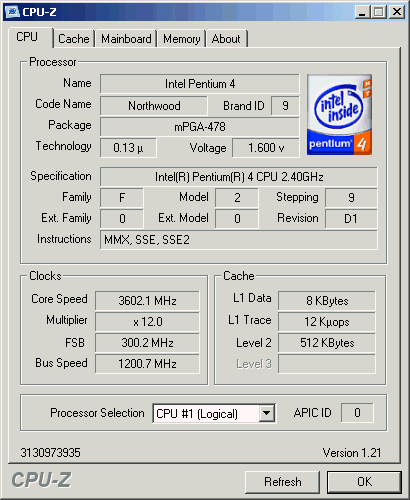 Temperatures were on the high side, but that shouldn't be much of a surprise. The 2.4C Pentium 4 @ 3.6 GHz idled at around 45 degrees Celsius, while load temps reached as high as 57 degrees Celsius! Despite that, the processor ran quite well, it's just a shame the PC was louder than a jackhammer in a rock concert!