With watercooling, the Pentium 4 2.4C CPU was pushed a little further than the air cooling tests, maxing out a very nice final speed of 3.82 GHz, while maintaining 100% stability! On air cooling, this same processor was overclockable to 3.6GHz.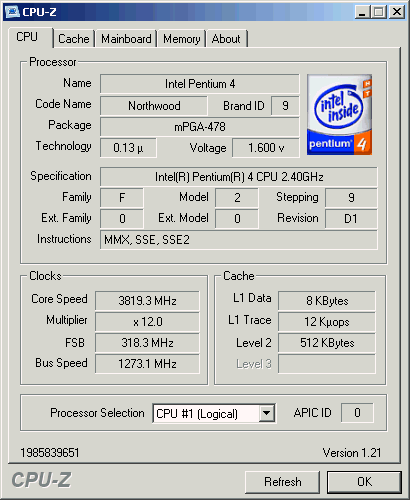 Operating temperatures for the processor hovered around the 37 degrees Celsius mark, rising to 46 degrees under load. Increasing the CPU voltage did not net us any increase in overclockability.
The biggest obstacle to watercooling is the high initial investment in parts. Watercooling is an investment in cooling, and will pay off in the long run as the systems can be carried forward to future processors, or platforms without too much hassle.
If you decide to convert your computer to watercooling, you have two options, you can go the "do it yourself" route, or just buy a pre-made kit from any number of vendors. Expect to spend at least $300-400 CDN to watercool the CPU, and more if you want to watercool other parts of your PC like the northbridge or videocard GPU.
After the initial investment, adapting your pre-built, or DIY waterblock for future processors and platforms is is pretty inexpensive. Of course, along with the added cooling potential of liquid cooling a processor, comes a big benefit in the sound department. For anyone who is sound sensitive, you will be happy to hear that the PC is substantially quieter with a lone, or even a few 120mm fans, than even one 80mm Tornado fan!
There's more to watercooling than liquid cooling, many enthusiast use TEC's and water chillers with a watercooling loop too, but this is beyond the scope of this article... But if you can augment the fluid temperature to below ambient levels, you can expect your overclocking results to perform between standard watercooling and what's coming up next....