In the following overclocking test with the phase change cooling installed, we found the Pentium 4 2.4C wasn't the limiting factor, it was the motherboard. In the end, the highest I was able to overclock the 2.4 GHz processor was 4.08 GHz, while maintaining 100% stability. Unfortunately, anything higher and the motherboard's northbridge would start to generate Prime95 errors.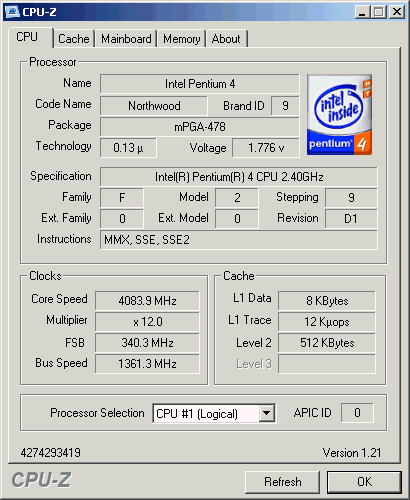 According to SiSoft Sandra, the Pentium 2.4C CPU running at 4.08 GHz with a voltage of 1.75V produces around 120W-130W of heat. That's a significant amount, but who cares when your CPU idle temperature is -40 Celsius. With load, that temperature hovers around the -32 degrees Celsius mark!
For those of us who like our computers silent, or at least very low noise, it is worthwhile to mention that phase change coolers are in general very quiet. In the unit we used for these experiments, there is only a low pitch hum from the compressor. The 120mm fans spin at a low RPM and are almost inaudible.
While Phase change cooling sounds pretty complex next to a simple heatsink and fan, there are even more exotic forms of cooling available. Techniques such as cascade phase change cooling, dry ice and even Liquid nitrogen have been used at one time or another. They are not viable commercially, and present some serious safety issues as well.