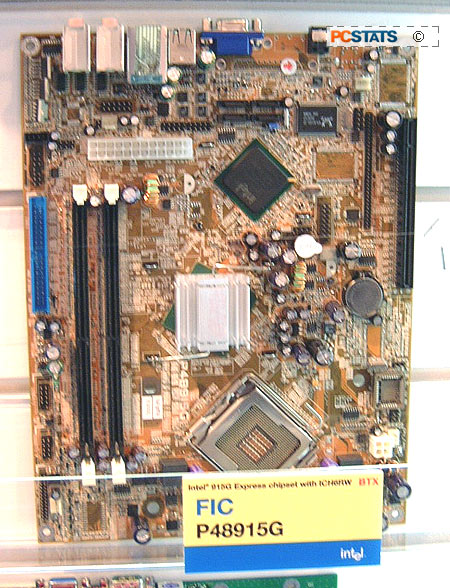 FIC have produced the P4891G BTX motherboard to illustrate what their solution based on the 915G and ICH6RW might be. Without even a BIOS on this board, I doubt that it is functioning. Interestingly, there is only one PCI-E x16 socket on this board.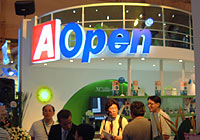 That's it for the motherboards thus far, but what about BTX cases at Computex 2004? Well, it can be hard to spot them from a distance since they are identical from the front, but we managed to take a quick look at a unit that Aopen was demonstrating in their booth in hall 2.
The system was a working BTX computer, and it is interesting to note that the cooling solution for the Intel Pentium 4 socket 775 processor was entirely passive. A case mounted fan at the front of the chassis intakes air, blowing it through a fan shroud over the circular aluminum fins of the socket 775 cooler.
A simple solution by all accounts, but probably an effective one.... and before you ask about noise levels, I should mention that a half-dozen ATI booth babes were screaming out over a megaphone at the front of the booth. I couldn't hear a thing, let alone how loud or quiet the BTX case was. ;-)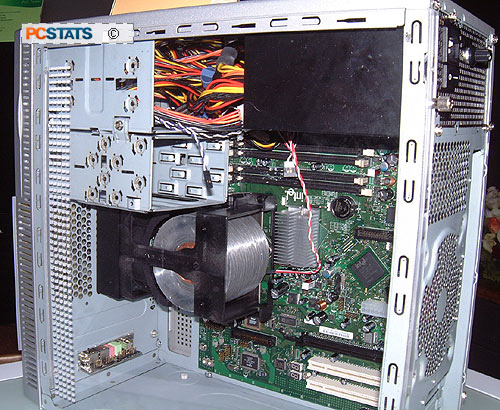 Obviously, this isn't a running computer - these pictures are of the empty chassis and show in better detail what a BTX case and motherboard look like.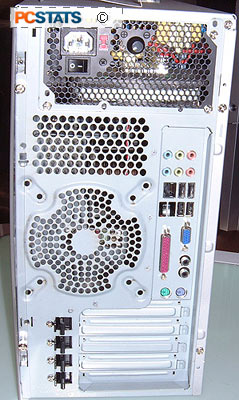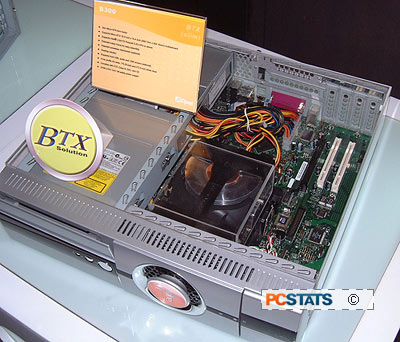 From the back, a BTX motherboard and chassis appear no different from the standard computer you are using right now. But if you look carefully, you'll see that everything is flipped over. Also, that large exhaust fan is no longer right next to the processor, but used instead to ensure a even airflow from the front of the computer, through the CPU heatsink, to the rear. The slim Aopen BTX case to the right maintains a similar design approach. By using centralized cooling fans, Intel are able to maintain better control over noise issues which continue to be a challenge.