Computex 2004 - Getting Ready for BTX
---
Thus far, motherboards have remained pretty stable in terms of size, shape, and the location of cable connectors and such. Long ago, the AT standard morphed into ATX, the current day standard which outlines exactly where components are located on a board. The ATX 2.0 standard (the second revision of ATX) made way for a small assortment of sizes like Micro-ATX, Flex-ATX and so forth. Yet, no matter what the size of the motherboard, whether it be for a small form factor PC, or a desktop PC, the location of components like PCI slots, processor, and I/O ports (PS/2, USB, network, parallel, and serial) are all essentially the same.
Several months ago consumers found out that Intel had plans to change all this. Called BTX, this new standard is as yet unapplied, but will eventually force you to toss out all your good hardware and purchase new parts; at the very least a case, motherboard and power supply which conform to the standard.
The proposed benefits of the BTX standard have been discussed at length already, so we are not going to rehash what has already been written. However, what has been interesting to see at Computex 2004 in Taipei, is just how many manufacturers are displaying BTX compatible cases and motherboards. Intel itself had a half-dozen BTX motherboards on hand from different manufacturers, but during our meetings with the manufacturers themselves, there was a "let's wait and see" attitude in the air.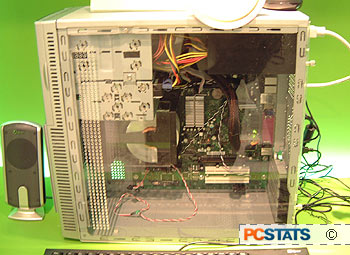 I don't doubt Intel's intention of moving the industry over to BTX, starting in 2005, but it seems as though many motherboard manufacturers are still unconvinced of a necessity. To them, BTX represents a revitalization of the industry - translated - a chance to sell us all new components.
The BTX standard many bring a 3.3V power rail into the scheme of things, but consumers are going to have to absorb the cost of the other architectural changes.
From meetings PCstats has had at Computex 2004 Taipei, there seem to be schools of thought. The first is that the BTX standard is still in a testing and development stage, and not yet finalized. The second is that if Intel really wants the motherboard industry, as well as you the consumer, to make the switch, it will happen some time in 2005. There is so much change going on right now that most consumers are just getting their heads wrapped around technologies like PCI-E (PCI-Express), DDR-2 RAM, and processors which almost seem to be loosing pins and jumping socket sizes on a quarterly basis. For the Intel platform, that is no less than three changes that are taking place at once - an almost unprecedented shift in desktop computing....
There is much more to be said on this topic, but first lets have a look at some of the BTX motherboards Intel was demonstrating in their 4th floor booth in hall 4 at Computex 2004. Each of the following BTX motherboards provides an interesting glimpse into the future of desktop computing, though none are slated for sale anytime this year.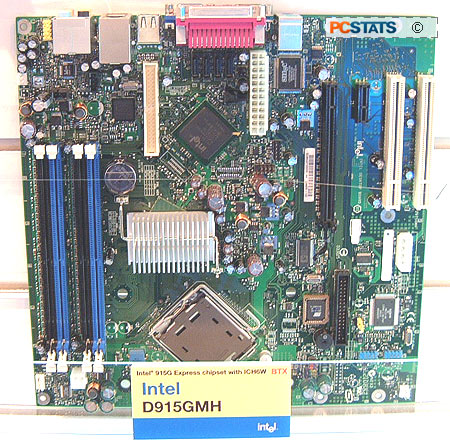 Intel naturally showed off their reference BTX socket 775 Pentium 4 motherboard, the D915GMH. This board is the same one you'll see a little later running in an AOpen BTX case, and is based on the i915G and ICH6W (integrated wireless) chipsets.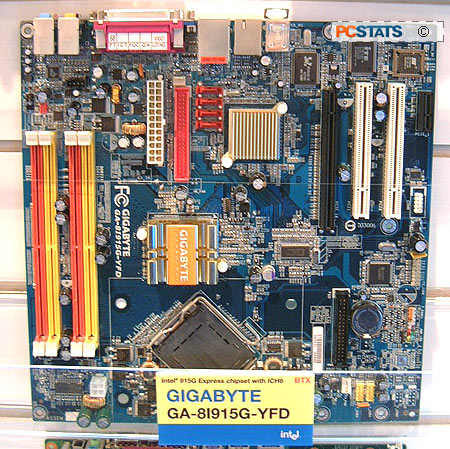 The Gigabyte GA-819G-YFD BTX motherboard is also based on the i915G and ICH6 chipsets. PCstats had the opportunity to visit Gigabyte's Nan-Ping factory along with a couple dozen other media during Computex 2004 Taipei and see Gigabyte motherboards go from PCB to finished products. Look out for the article covering the highlights of that trip to the manufacturing floor a littlelatter on.