Abstract: Taking into consideration the popularity of small formfactor PC's, 'combo drives' are the perfect match for space lacking cases such as those tiny toaster-sized PCs.


80% Rating:

Home > Reviews > Optical Drives > MSI X48
Supported formats, CDWinbench 99, Sandra
Nero is such a great program, and with Nero's InfoTool we can see what type of media is supported by the MSI X48. The drive can read regular CD-R's, CD-RW, DVD-RAM, DVD-ROM, DVD-R, DVD-RW, VideoCD, CD Text and C2 Errors.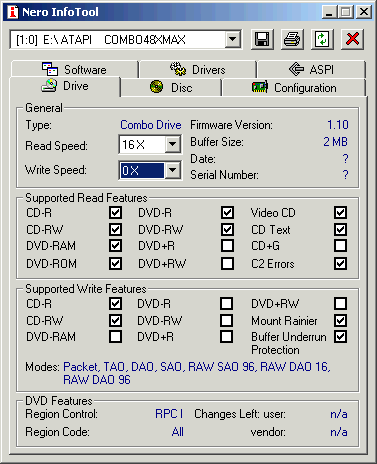 Users with DVD burners please note that the drive does not read DVD+RW or DVD+R media!

PCStats Test System Specs:
processor:

intel pentium 4 3.0c

clock speed:
15 x 200 mhz = 3.0 ghz
motherboards:

gigabyte ga-8knxp

videocard:

ati radeon 9800 pro

memory:

2x 256mb corsair twinx3200ll

hard drive:
40gb western digital special ed.
cdrom:
msi x48
powersupply:
vantec 470w stealth psu
software setup

windowsxp build 2600
intel inf 5.02.1012
catalyst 4.4

workstation benchmarks

cd winbench 99
sisoft sandra 2002
nero cd speed
CD Winbench 99
Source: Zdnet
The CD Winbench99 benchmark runs a series of scripted programs from a special CD in the drive and measures the time and data transfer capabilities as a result. Higher numbers mean better performance.
CD Winbench 99 Benchmark Results
Optical Drive
Results
Ranking
Samsung SW-252B (CD-RW)
1860 kb/s

MSI CR52A-A2 (CD-RW)

2420 kb/s
Plextor PXW4012TA (CD-RW)
2190 kb/s
LG 32-10-40 (CD-RW)
2110 kb/s
MSI CDRW 8340 (CD-RW)
2050 kb/s
Samsung SW-240 (CD-RW)
1910 kb/s
Samsung SW-232 (CD-RW)
1460 kb/s
Samsung SW-224 (CD-RW)
1320 kb/s
Samsung SC-152 (CDROM)
1710 kb/s
Pioneer DVD-500M (DVD ROM)
2440 kb/s
Samsung SW-216 (CD-RW)
1280 kb/s
AOpen 52x32x52x (CD-RW)
2300 kb/s
MSI X48 (CD-RW/DVD-ROM)
2460 kb/s
The MSI X48 combo drive is the fastest drive we've tested in CD Winbench 99, which is definitely very good.
SiSoft Sandra 2002
Source: Sandra
Sandra is designed to test the theoretical power of a complete system and individual components. The numbers taken though are again, purely theoretical and may not represent real world performance.
Sisoft Sandra 2002 Benchmark Results

Optical Drive

MSI X48

AOpen 52x32x52x
Samsung SW-252B
MSI CR52A-A2
Plextor W4012TA
LG 32x10x40
Disc Type
Data
Data
Data
Data
Data
Data
Drive Index
2187
2133
2207
2426
1992
1974
Buffered Read:
1780 kb/s
1600 kb/s
1582 kb/s
1893 kb/s
2300 kb/s
1627 kb/s
Sequential Read:
3005 kb/s
2970 kb/s
3284 kb/s
3408 kb/s
2802 kb/s
2919 kb/s
Random Read:
961 kb/s
877 kb/s
792 kb/s
952 kb/s
776 kb/s
551 kb/s
Access Time:
363ms
411 ms
245 ms
194 ms
238 ms
73 ms
In SiSoft Sandra the MSI X48 is also very fast, access time is a bit on the high side but overall it's still an impressive showing.