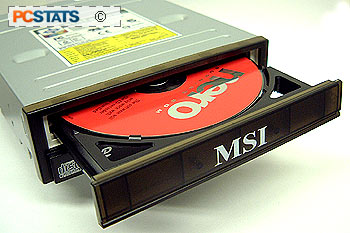 With the current trend of Small Form Factor PC's nowhere near its end, space, or lack there of in a PC can be a real problem. Combo drives help alleviate this problem by combining DVD and CDR/RW functionality into one. They are note quite as convenient for doing CD-to-CD copies, but combo drives like the X48 only occupy one 5 1/4" drive bay.

Any SFF PC user will tell you that real estate inside the PC can sometimes also be a problem, which is why we're happy to see the MSI X48 is nice an compact, length wise. To top things off, you can also change the front bezel of the drive from white to black.

The MSI X48 is not the fastest CD-RW on the market, with only a 48x CD-R, 24x CD-RW burn speeds but I doubt you'd notice the difference between 48x and 52x anyway. The X48 supports all the popular writing methods including Mt. Rainier.

For DVD enthusiasts, the X48 can read DVD-ROM/RAM and DVD-R/RW discs at a maximum of 16x which is as fast as conventional DVD-ROM's. Please not though that the drive does not read DVD+R/RW discs.

From the tests PCstats ran, the performance of the MSI X48 drive was generally very good. Both data and audio transfer speeds were in line with low access times. We did experience a peculiar problem burning CD-R/RW discs, but I chalk that up with buggy software as Nero had no problems burning media at 48x. DVD playback was as expected too. With a retail price of $65 CDN ($48 US) the MSI X48 Combo Drive is actually a pretty good value; buying a standalone DVD-ROM and CD-RW can easily cost you $40-50 CDN more.

Related Articles

Here are a few other articles that you might enjoy as well...

2.