Nero's CD Speed burn tests are done twice, once with a CDR rated to 1x-52x burn speed, and a CD-RW rated to 4x-32x. Each disk was test with files of about 640MB in size. This test is done by simply placing blank recording media into the burner and running CD Speed the software will detect if it is CD-R or CD-R/W media and run the appropriate tests.
Nero CD Speed: CD-R/RW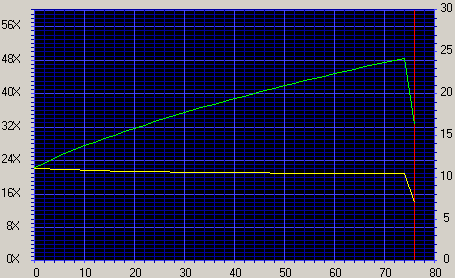 CD-R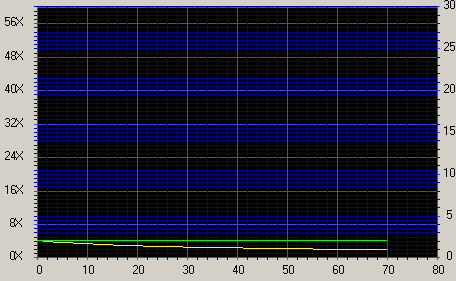 CD-RW
Nero CD Speed: CD-R, CD-RW Benchmark Results

Optical Drive
MSI X48
AOpen 52x32x52x
Samsung SW-252B
MSI CR52A-A2
Plextor W4012TA
LG 32x10x40
Media
CD-R
CD-RW
CD-R
CD-RW
CD-R
CD-RW
CD-R
CD-RW
CD-R
CD-RW
CD-R
CD-RW
Media Write Speed:
48x
24x
52x
32x
52x
24x
52x
24x
40x
12x
32x
12x
Avg Speed:
19.29x
4x
39.49x
30.86x
39.57x
18.72x
39.76x
24x
30.59x
12x
19.63x
10.01x
Start Speed:
12.01x
4x
23.97x
22.6x
23.62x
11.22x
23.82x
24x
20.01x
12x
16.01x
10.01x
End Speed:
24.02x
4x
51.21x
32.29x
52.14x
24.61x
52.25x
24x
40.05x
12x
20.02x
10.01x
Type
Z-CLV
CLV
CAV
P-CAV
CAV
CAV
CAV
CLV
Z-CLV
CLV
Z-CLV
CLV
We ran into an odd problem when testing the MSI X48 with CD media, the maximum we could get the burner to burn CD-R's was 24x despite the media being 48x compatible. CD-RW burning was also restricted to 4x no matter what we did!?
CD Speed can also read DVD-ROM discs showing you maximum transfer speeds, access times and CPU utilization. The DVD data disc has about 3.78GB of data on it and is a retail DVD-ROM disc, not burned on a DVD-/+R disc.
Nero CD Speed: DVD-ROM
Nero CD Speed: DVD-ROM Benchmark Results

Optical Drive
MSI X48
Disc Type
DVD-ROM
Avg Speed
11.29
Random Seek Time
95ms
1/3 Seek Time
103ms
Full Seek Time
161ms
DAE Quality
10
CPU Use: 1x
1%
CPU Use: Max
1%
Disc recognition Time
4.87s
Disc Eject Time
5.44s
Disc Load Time
0.96s
Unfortunately we do not have any drives at this moment to compare the MSI X48 against to in the DVD-ROM tests. It looks like the MSI X48 does fairly well here, the access times are not very high nor is CPU utilization.