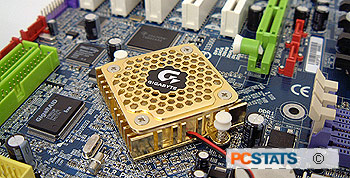 nVIDIA's new Nvidia NF3-250 Athlon64 chipset addresses many of the issues consumers originally faulted the nvidia NF3-150 chipset with. For starters, the Nvidia NF3-250 is a single chip solution like the NF3-150, and it now natively supports four Serial ATA channels as well as SATA RAID.
By default "NVIDIA RAID" supports the usual RAID modes 0, 1, 0+1 and JBOD. Further still, users can apparently mix and match IDE and Serial ATA drives in a RAID array of up to a maximum of four Serial ATA devices, and two IDE hard drives. This is an interesting measure of flexibility we haven't before seen addressed by another RAID solution.
While I doubt the vast majority of end users will be able to take full advantage of a Gigabit Ethernet connection at this time, many were not pleased that the Nvidia NF3-150 chipset only included a 10/100 PHY. The nForce3-250gb corrects this oversight, and now includes Gigabit Ethernet, which is the standard for high-end desktop boards at the moment.
Nvidia Firewall
On an interesting technological note, the onboard Gigabit NIC runs on its own private bus, somewhat similar to Intel's CSA Gigabit Ethernet. Nvidia's 10/1000 NIC still requires a PHY (the Cicada SimplyPHY in this case), however one more thing has been added in. How about a Firewall with your new motherboard? The nVidia Firewall is a hardware based solution built into the NF3-250GB chipset that promises added protection for your PC from Internet-born viruses.
With so many viruses being transmitted by networks it's important to safeguard your PC against possible attacks, not just for yourself, but also to stem the flow of worms from infected PC's. nVIDIA has taken it upon themselves to include a hardware firewall in the nForce2-Ultra400Gb and nForce3-250Gb chipsets which should offer users modest protection.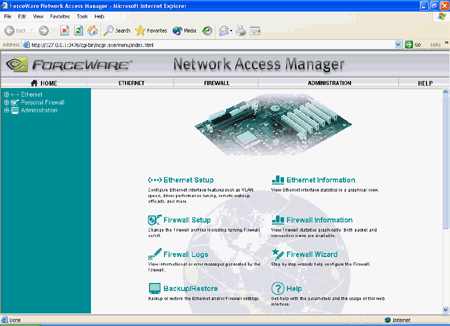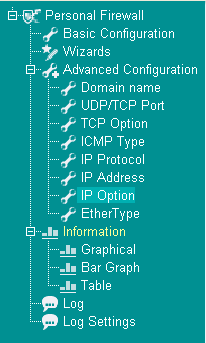 To access the nVidia Firewall functions, click the "nVIDIA Web-based Interface" icon on the desktop after installing the latest ForceWare drivers, to bring up the above window. nVIDIA has organized their Network Access Manager into three different categories; Ethernet, Firewall and Administration. Clicking any of the headings in the main window changes the menu to the left, which gives you a slew of options for firewall configuration.
You can use nVIDIA's predefined security levels if you are unfamiliar with how to setup a good firewall. The Nvidia Firewall application also allows users to configure things like which ports are opened, closed or in stealth mode. Once changes are made, the network interface needs to be restarted. After that, simply give your PC a few minutes and you'll be set. If you suspect any suspicious activity coming down the LAN, you can always look at the firewall logs. Please note though, the onboard hardware firewall is not enabled by default and you will need to access the Network Access Manager before this feature is turned on.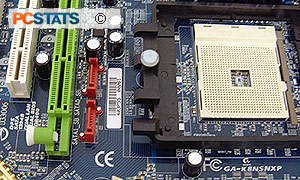 Rounding out the number of items nVIDIA have added or increased on the Nforce3 250gb is the number of USB 2.0 ports, which has jumped from six to eight. Apparently to, nVIDIA has optimized the NF3-250 chipset to run better with nVidia videocards.
This doesn't mean that non-nVIDIA based videocards won't run however. PCstats is going to test out this interesting little nVidia optimization by running an Asus Radeon 9800XT head-to-head against a Gigabyte GeForceFX 5950 Ultra to see which is really faster, and by how much.
HyperTransport and AGP/PCI Locks
Another aspect of the NF3-150 which caused a lot of frustration had to do with how nVIDIA engineers implemented the Athlon64 HyperTransport connection. On the nVidia NF3-150 chipset, Hypertransport ran at just 600 MHz, and to exasperate the situation further, the upstream connection was just 8-bits wide! In comparison, VIA's K8T800 chipset maintained a HyperTransport connection at the full 800 MHz bus speed, and ran with a full 16-bit wide bus (both up, and downstream).
nVIDIA silenced its critics by making certain that both Hypertransport streams (up and down) are 16 bits wide, and can run as high as 1000MHz for the NF3-250gb. At this speed, nVIDIA has no rivals, and currently maintains the fastest Athlon64 chipset.
While the nForce3-150 did have AGP/PCI locking capabilities, for one reason or another they were never adopted by motherboard makers. Things are different this time around; all nForce3-250 based motherboards we've tested feature full functioning AGP/PCI locks. Mainstream users need not concern themselves with such details, but enthusiasts should be more than satisfied by their expanded overclocking options. Speaking of overlocking, let's now see how the Gigabyte GA-K8NSNXP handled the task itself.