The Comanche 4 benchmark demo is a unique benchmark as it represents a real-world gaming experience. It contains the single player "Eagle's Talon" mission from the game as well as a detailed cinematic. This DirectX 8.1 benchmark demo will measure your system's performance in the standard frames per second format. The benchmark was run with audio disabled.
Comanche 4 640x480 Benchmark Results
Motherboard
FPS
Ranking
Asus K8V Deluxe
63.87

Gigabyte K8NNXP

66.09
MSI K8N Neo-FIS2R
66.33

Gigabyte K8NSNXP

66.12

Gigabyte K8NSNXP (234/464)

70.84
In Comanche 4, overclocking allows the Gigabyte motherboard to break 70 fps!
A completely rewritten 3D engine based on DirectX8 encompasses many visual effects such as volumetric Nebulae (gas clouds) that have a real impact in the game (you can hide in them), many new engine, shield, weapon and explosion effects. Objects cast real dynamic 3D shadows! Dynamic DP3 bump mapping allows a previously unseen level of detail.
X2: The Threat Benchmark Results 640x480-32bit
Motherboard
FPS
Ranking
Asus K8V Deluxe
128.057

Gigabyte K8NNXP

126.241
MSI K8N Neo-FIS2R
132.068

Gigabyte K8NSNXP

130.691

Gigabyte K8NSNXP (234/464)

152.384
X2: The Threat runs some nice numbers through the overclocked Gigabyte K8NSNXP.
Unreal Tournament 2003

Source: Epic
Unreal Tournament 2003 is the sequel to 1999's multiple 'Game of the Year' award winner. It uses the very latest Unreal Engine technology - where graphics, sound and game play are taken beyond the bleeding edge. Unreal Tournament 2003 employs the use of Vertex as well as Pixel Shaders and it's recommended that you use a DirectX 8 videocard to get the most out of the game.
UT2003 - 640x480
Flyby
FPS
Ranking
Asus K8V Deluxe
286.72

Gigabyte K8NNXP

292.44
MSI K8N Neo-FIS2R

296.32

Gigabyte K8NSNXP

294.15

Gigabyte K8NSNXP (234/464)

312.64

Botmatch
FPS
Ranking
Asus K8V Deluxe
91.03

Gigabyte K8NNXP

93.53
MSI K8N Neo-FIS2R

94.49

Gigabyte K8NSNXP

94.07

Gigabyte K8NSNXP (234/464)

105.36
If you're a gamer you're going to like the frame rates the Gigabyte K8NSNXP pumps out at stock speeds!
Conclusions:
When it was first introduce, many users were surprised to discover that none of the initial Athlon64 chipsets included AGP/PCI locking. An odd situation, since the AthlonXP and rival Pentium 4 systems both offered this feature. If we consider that most early adopters of new technology are enthusiasts, such shortcomings don't make much sense... but thankfully, nVidia has righted the situation with the release of the nForce3-250gb chipset.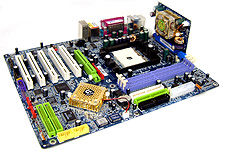 With the nForce 3 250 core logic, Athlon64 overclockers need not fear that their videocards, PCI peripherals or HDD's will hold them back from pushing their hardware further. And on the serious front, nVIDIA have also addressed several issues such as the lack of native Serial ATA/RAID support, lack of Gigabit LAN, and the decreased HyperTransport links of their previous core logic.
Gigabyte have done an excellent job with the GA-K8NSNXP motherboard, primarily by including a long list of tempting features in it; IEEE 1394b, 7.1 audio, an additional Serial ATA RAID controller, IDE RAID, Gigabit Ethernet, dual power supply, and of course their dual BIOS feature. And yes, the Gigabyte GA-K8NSNXP includes all the necessary ports, cables and adapters that you'll need to take advantage of everything we've just listed.
The performance of the socket 754 Athlon64 Gigabyte GA-K8NSNXP motherboard was very good, as you have seen by the benchmarks, and in terms of overclocking it was able to reach 234 MHz. Though, without any multiplier controls, more dedicated enthusiasts will remain unsatisfied. Irregardless, the Gigabyte GA-K8NSNXP is an extremely solid socket 754 Athlon64 motherboard for any main system. The only thing which precludes it receiving an award is the fact that socket 939 Athlon64 boards are here, and very tempting solutions if you can afford the price premium AMD has in place...
Find out about this and many other reviews by joining the Weekly PCstats.com Newsletter today!
Related Articles
Here are a few other articles that you might enjoy as well...