Gigabyte GA-K8NSNXP nForce3-250Gb Motherboard Review
---
Many enthusiasts were caught off guard when it was discovered that the first crop of Athlon64 chipsets to hit the streets did not feature AGP/PCI locking. After all, AGP/PCI locking was not a new feature by any means, and with Intel platforms and the previous generation AMD CPU's supporting bus locks, there really wasn't any reason not to continue support on Athlon64 systems.
The situation is different now that the nVidia nForce3-250 chipset has been introduced, and once more, things are looking bright for overclockers! The nForce3-250 chipset also addresses some of the shortcomings of the previous nVidia nForce 3-150; from slower HyperTransport connections, to the lack of native Gigabit Ethernet support, plus a few other upgrades.
For any consumer interested in a fast motherboard that is fully featured, pay close attention to the Gigabyte GA-K8NSNXP PCstats is testing today. Based on the nForce3-250Gb chipset, this Socket 754 Athlon64 motherboard is literally filled to the gills with virtually every option under the sun. It has onboard native Serial ATA RAID care of the NF3-250Gb chipset, and if that doesn't satisfy your storage needs, an additionally Silicon Image SiI3512CT128 Serial ATA RAID controller, for a total of four SATA headers!
The GA-K8NSNXP also boasts an onboard IDE RAID controller, IEEE 1394B which handles data at up to 800mb/s, 7.1 channel audio, twin NICs (one 10/100, and the other a Gigabit LAN), Gigabyte's proprietory Dual Power Supply system (the big blue slot at right) and of course a pair of backup BIOS'.

Gigabyte GA-K8NSNXP Motherboard



Includes:

Users Manual, GigaRAID Manual, Serial ATA RAID Manual, Quick Installation Guide, Driver CD, 2x Ultra/133 IDE cables, 2x Serial ATA cables, Floppy Drive cable, Serial ATA power cables, External Serial ATA Bracket, USB Bracket, USB/IEEE1394b Bracket, Audio Bracket, Rear I/O Shield, Motherboard Sticker
The Gigabyte GA-K8NSNXP includes four PCI brackets; one for external serial ATA connections, one for 8-channel audio, and two more with a host of USB2.0 and IEEE1394B Firewire jacks. The rear IO section of the board comes with four USB2.0 jacks, so you really don't even have to install the extra USB2.0 brackets unless there are simply too many USB devices in your life.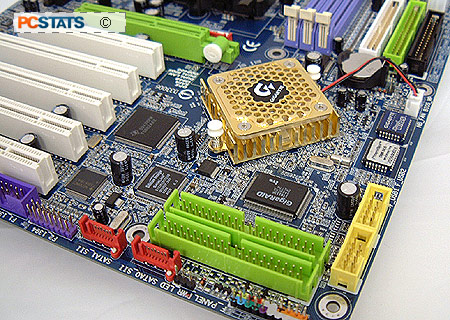 Gigabyte's motherboards are generally easy to work with, and the GA-K8NSNXP is no different. The main IDE/Floppy drive and 20-pin ATX power connectors are out of the way of the other system devices, located just to the right of the three DDR RAM slots.
The auxiliary 4-pin ATX12V connector is near the top of the motherboard so that cable is pretty much out of the way, and most of the bracket headers are lined up along the bottom edge of the motherboard too.
Each type of slot, socket, connector, and header is colour coded to help make installation a smoother process for newbies, and a quick installation guide is also included in the box. There are three fan headers located throughout the board, and the engineers have even slapped an active cooler onto the nForce3-250Gb.
While the industry is gradually moving towards Serial ATA hard drives, there are still plenty of IDE hard drives floating around. For that reason, I'm happy to see any board that supports both SATA and IDE RAID, such as is the case on the GA-K8NSNXP. IDE drives are still so common, that the only way they are going to be retired is if chipset makers stop supporting IDE altogether.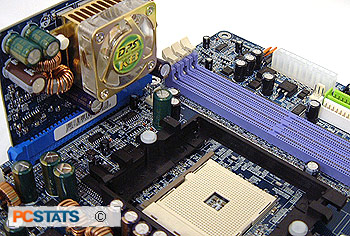 Gigabyte's high end boards feature the very clever Dual Power System, which offers better power to the motherboad components, and some measure of redundancy.
Apparently too, the MOSFETs on this motherboard can handle up to 150 amperes. The Gigabyte GA-K8NSNXP's Dual Power system is a 6-phase unit, which reportedly can scale up with CPU's as fast as 10 GHz. I guarantee we won't be seeing anything that quick, anytime soon, however!
When it comes to peripherals, USB2.0 offers more bandwidth than the first generation IEEE 1394a Firewire, but if you're into multimedia, you'll no doubt cross paths with IEEE 1394b fairly soon. With a bandwidth of up to 800Mbps, Firewire "B" offers basically twice the bandwidth of USB2.0 and IEEE1394a - which makes this a great little add-on for any user involved with extra high speed external HDD's or digital video cameras!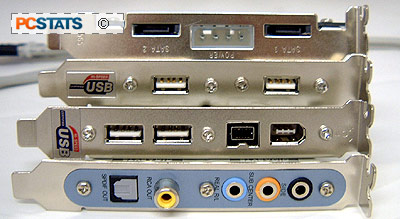 The third bracket from the top, at left, has the rectangular IEEE1394b socket. Right next to it is a standard IEEE 1394a port. The GA-K8NSNXP also comes with a nice audio bracket with an assortment of headphone jacks, an RCA out, and SPDIF (optical) out.
While the nForce3-250 chipset itself does not generate as much heat as previous iterations of the nForce series, we're pleased to find an active cooling solution resting on top none the less.
In terms of the software bundle, the GA-K8NSNXP includes a couple good choices like Norton Internet Security 2004. There are so many viruses floating around the internet today that any computer connected to a LAN must have some sort of protection.