Starting at 200 MHz I began to raise the clock speed of the Gigabyte GA-K8NSNXP motherboard. At 217 MHz it ran into a few stability problems which were fixed by raising the memory voltage to 2.7V. At 220 MHz the Gigabyte GA-K8NSNXP again started to experience some stability problems - this time the CPU voltage needed to be increased to 1.6V. At 227 MHz FSB it again started to show some stability problems related to the processor, so the voltage was raised to 1.65V. The Gigabyte GA-K8NSNXP hit its top speed at 234 MHz. Anything higher and the system would lock up randomly during the benchmarks.
With an average overclocking Athlon64 3200+ processor, we believe that it was the processor that may have been holding things back. However, if the Gigabyte GA-K8NSNXP had better multiplier control, I anticipate it could have been pushed a little further.
GA-K8NSNXP BIOS Screen Shots: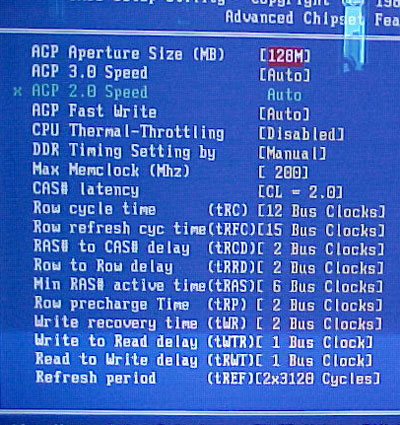 To access the Advanced Chipset Features we must first press CTRL + F1, then the menu becomes unlocked. Inside you'll find a whole host of memory tweaks from the good ole CAS Latency settings and RAS to CAS Delay to more obscure timing adjustments like Refresh period, and Row refresh cyc time.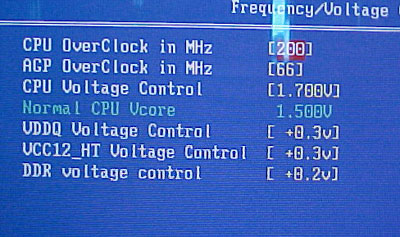 Gigabyte allows for motherboard speed adjustments from 200-300 MHz, in 1 MHz increments. AGP ranges from 66-100MHz in 1 MHz increments. Maximum CPU voltage is 1.7V, VDDQ can go 0.3V higher, HyperTransport voltage can be raised 0.3V and DDR can go as high as 2.7V. There are no CPU multiplier options, but hopefully Gigabyte will include option in a newer BIOS revision for the GA-K8NSNXP.