Apart from its all black exterior, the Aopen H420 features just a small silver accent strip around the front bezel that wouldn't be totally out of place even in a government setting. Rubberized feet keep the sides of the case from getting scratched if placed on its side (horizontally), or when standing vertical. One set comes pre-applied, and the other are stick-on, so you can choose how you would like the PC to sit.
The black picks up scratches easily, so I'd recommend using the rubber feet to protect its paint job.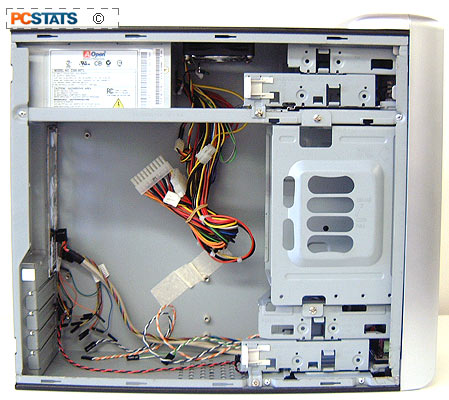 Moving right along, the Aopen H420 case comes with a pretty common assortment of screws (for attaching a Flex or MicroATX motherboard), a power cord, Aopen 300W MicroATX power supply, and a few other tooless brackets used for attaching the drives and locking in expansion PCI cards. The drive bay EMI shields are finger friendly, and can be removed without the need of screwdriver, pliers, or angle grinder. ;-)
The compact power supply is Prescott CPU ready, and lists a 20-pin ATX and 4-pin auxiliary power connector, four 4-pin molex and three FDD power connectors. There is no power switch on the PSU, but at least there is a large 92mm internal fan for exhausting warm air out with a minimum of noise.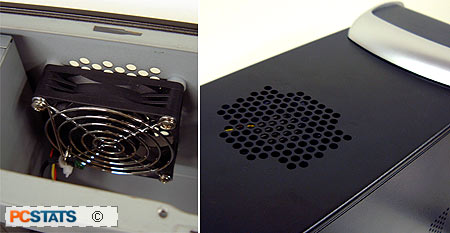 The power supply has one extra connector not normally found on a PSU, a 3-pin fan header. This is used exclusively for the integrated 70x70x15mm case cooling fan which sits at the top of the case. The little 70mm case fan exhausts outward, and has its speed controlled by a small thermistor situated below which measures actual internal case temperatures. Carefully placed venting elsewhere, and the thermally controlled fan, allow the Aopen H420 to list a conservative noise output of 24 dBA.