There are little metal tabs which click into the screw holes of each drive (5.25" and 3.5") and position it properly to the correct depth. These tabs are a little stiff for our liking, so be prepared to give those CDROMs a good whack to get them in... or bend the tabs back a little with a screwdriver (pictured here, below).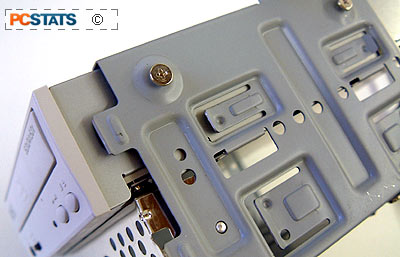 Since the Aopen H420 is a compact case, the fit is going to be tight no matter which way you look at it, so it's best to keep the cable situation as neat as possible. The internal case fan is protected with a wire fan grill from stray wires. Memory may or may not be easily removeable with the optical drives installed. An AGP videocard no longer than 20cm will fit, but don't count on one of those two-PCI slot monsters, with molex power connectors on the end as a guaranteed fit...
The bottom hard drive bay may not even be useable if the motherboard has its front-panel IO connectors too close to the bottom right corner, which most do. In our tests with the Aopen H420 and a Gigabyte MicroATX (measuring 24cm x 24cm in size) GA-8TRS300M motherboard, we couldn't install a second hard drive in the bottom bay without physically bending the motherboard. That's never a good idea, so don't count on using it.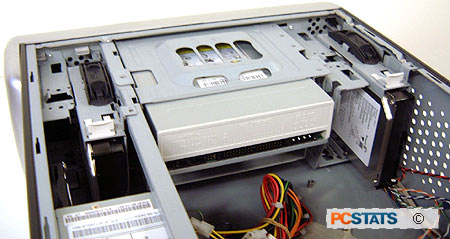 The lower floppy bay is also a little sketchy because the clearance above motherboard headers is like 2mm. Just one fan connector, IDE cable, or jumper is enough to nix the use of this bay entirely! The infuriating part of all this, is that there is plenty of space on the other side of the drive bay for this cases' designers to have moved the bay up, and provided a little more breathing room for motherboard components. To have done this would have precluded the use of the tool free clips on these bottom two bays, but would have made these two bays universally usable. The Aopen H420 looses a couple good marks for this oversight.