The rest of the components in our test fit seemed to go in without problems. The H240 provides four PCI expansion bays, the IO shield is removeable, and there is sufficient space (about 10mm) between the motherboard and power supply to install a stock Intel socket 478 heatsink. A low noise Zalman CNPS7000A-Cu heatsink would never fit, but there are plenty of other after market coolers that would be compatible here.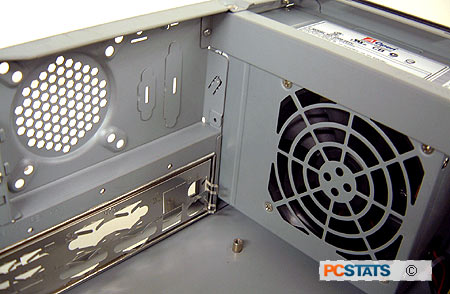 As the power supply exhaust fan is situation directly over the CPU socket, this should help provide a quick exit path for warm air to escape the case. If another fan is desired, there is space for a 60mm fan at the rear of the case, just above the IO ports. Last but not least, the H420 does a good job of protecting fingers from getting sliced on sharp edges - which is always nice for the folks installing PCs!
Conclusions on the Aopen H420 Case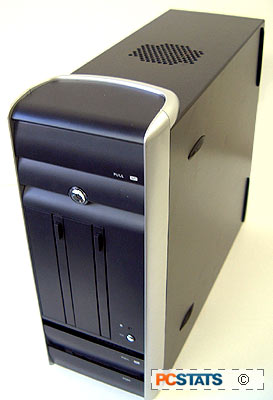 Retailing for about $55USD, the Aopen H420 is a black MicroATX chassis which comes with a 300W Aopen branded power supply installed. Its tool free focus makes it an easy case to get into, and swap components out of, but that focus has also lead to a couple oversights.
Of the H420's two 3.5" HDD bays, and two 3.5" FDD bays, at least one of each type is probably not going to be usable. This will depend on the layout of the MicroATX motherboard installed, but since the front panel IO headers are typically placed along the lower front edge of a motherboard PCB, I expect this to be a universal problem with this case.
This questionability of usage, makes the Aopen H420 a case with two good 3.5" bays for certain.... not four.
In all other respects, the Aopen H420 is a fairly good case. Its design is simple, and well thought out for corporate, educational, or home use. The front bezel comes with a nice LED illuminated power switch, a HDD stats LED and reset button. The multimedia ports at the front of the case are a pretty custom feature of brand name PCs, and we're pleased to see SI cases such as the Aopen H420 following through as well. Its hidden drives provide a nice clean aesthetic, and its steel construction feels solid.
Measures to control noise by employing a thermally controlled fan are welcome, and translate into potential use as a media center PC chassis. For $55 bucks, the Aopen H420 is a good little MicroATX case with space enough for at lest two 5.25" CD-ROMs, a 3.5" FDD and HDD. Whether or not consumers can get any use out of the other two 3.5" bays is up in the air, however. A small oversight perhaps, but one which certainly costs this case a couple good marks.