Abstract: The jet black Aopen H420 is a compact desktop chassis intended for use with MicroATX or FlexATX motherboards. It is large enough that full height AGP and PCI cards can be installed too.
78% Rating:
Home > Reviews > Cases > Aopen H420
Installation and Tool free Quirks
Accessing and installing components into the Aopen H420 is fairly simple, as Aopen's engineers have gone to great pains to make this a tool free case. The side panel is held on with captive thumbscrews, and all four of the 5.25" and 3.5" drives use tool free brackets to keep each drive in place. Even PCI and AGP cards are locked into place with a plastic clip, so screws are not needed (though they can be used).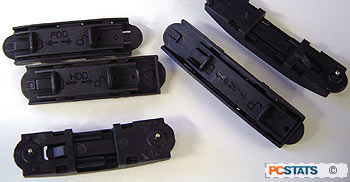 In the office environment this should make life a little easier for often overworked IT staff.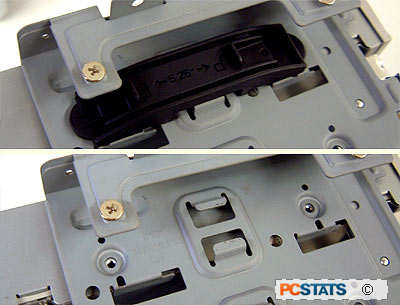 Best of all, if in the lifespan of the H420 case every single tool free bracket goes missing, you can still install any drive, or PCI card, with regular computer screws! Tool free cases which only work with their own little proprietary plastic brackets tend to be useless once those brackets go missing.... This is something to keep in mind when looking at computer cases of any size.
Installation and useability
I suppose that most people shopping around for a new PC are most interested in how the case looks, and have little if any interest in how easy it will be to install, or upgrade components a few months down the road.
Yet, when it comes time to upgrade that PC, what are you going to do if there isn't any room left in the box? PCstats.com came across this Catch 22 or sorts in its review of the >Dell Dimension 2400. The Dell had a nice looking chassis by all accounts, but it will be virtually useless when it comes time to add something as simple as a second hard drive.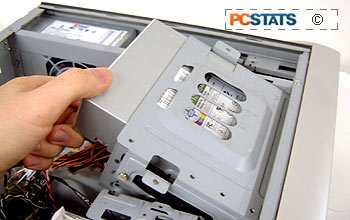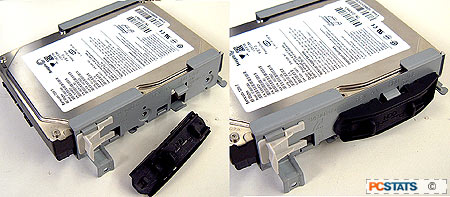 Installation of drives and the motherboard into the Aopen H420 was none too difficult, and could be accomplished by a novice user with the help of the included instruction pamphlet. One first has to remove the optical drives caddy, swap out the I/O shield for the one that comes with motherboard (if necessary), and then slide in the MicroATX or FlexATX motherboard and screw it down.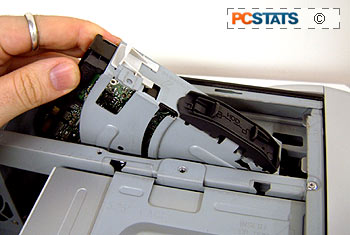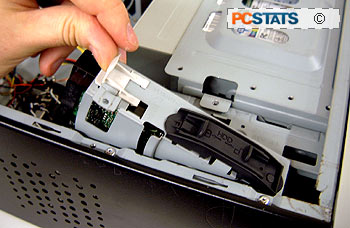 Since the holes for affixing a motherboard to the chassis can vary from one board to another down around the PCI slots, the Aopen H420 even has a couple of the motherboard screw posts insulated to prevent a short circuit on the back of the PCB. Nice touch.
SEARCH PCSTATS

---

Use the power of Google to search all of PCSTATS and the PCSTATS Forums. Tell us what you think of this new feature - FEEDBACK?