Unreal Tournament 2003

Source: Epic
Unreal Tournament 2003 is the sequel to 1999's multiple 'Game of the Year' award winner. It uses the very latest Unreal Engine technology - where graphics, sound and game play are taken beyond the bleeding edge. Unreal Tournament 2003 employs the use of Vertex as well as Pixel Shaders and it's recommended that you use a DirectX 8 videocard to get the most out of the game.
UT2003 - 640x480
Flyby
FPS
Ranking

Asus A8V (200/400)

328.25

Gigabyte K8NSNXP-939 (200/400)

326.5

Gigabyte K8NSNXP-939 (270/432)

363.18

Botmatch

FPS

Ranking

Asus A8V (200/400)

106.45

Gigabyte K8NSNXP-939 (200/400)

105.61

Gigabyte K8NSNXP-939 (270/432)

117.92
UT2003 has always loved high bandwidth systems as well, and here we see the Gigabyte K8NSNXP-939 kicks some butt when overclocked. Heck, those stock scores are also pretty amazing!
A very well rounded motherboard!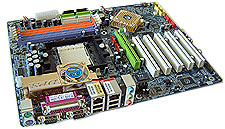 While nVIDIA experienced a whole host of manufacturing and design delays with its video chipsets earlier this year, its core logic department has been seriously picking up the slack. Even two years after its initial release, the nVidia nForce2 is still the highest performing K7 chipset out. While the company was a bit slow with the Athlon64, nVIDIA now clearly has an excellent product for Socket 754 (NF3-250) Athlon64 processors, and more importantly Socket 939 CPUs. All this is thanks to nVidia's release of the nForce3 Ultra.
It only makes sense for AMD to combine both their mainstream and high end processors into one platform and that's exactly what Socket 939 does. The Gigabyte GA-K8NSNXP-939 is feature laden, with everything from an extra Serial ATA RAID controller, to second generation IEEE 1394b on board. For that extra dose of performance, it includes two network connections (one a Gigabit LAN, the other standard 10/100 LAN). Audio is taken care of by a 7.1 channel system, and the GA-K8NSNXP-939's twin BIOS chips add a measure of reliability into the mix as well. If you do find yourself needing more, the K8NSNXP-939 still has five 32-bit PCI slots ready for future expansion!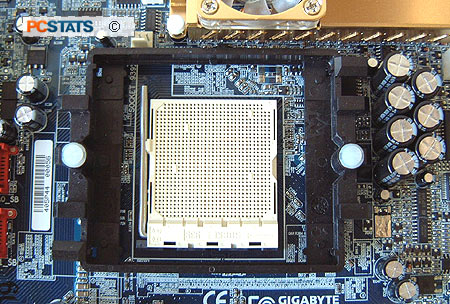 It's no surprise that the performance of the Gigabyte GA-K8NSNXP-939 is good. After all, it's a Socket 939 Athlon64 motherboard! When it comes to overclocking I'd say the board did pretty well, it reached an amazing 270 MHz with completely stock cooling, and with something a little more exotic I wouldn't be surprised to see it reach well over 300 MHz.
The Gigabyte GA-K8NSNXP-939 retails for $350 CDN ($240 US), making it a high-end option to be certain. But price aside (it is expensive), you're getting pretty much everything in one shot. The Gigabyte GA-K8NSNXP-939 is fast, it's packed to the resistors with features, and since it supports the Socket 939 Athlon64 processor, you know it is going to be as good for gaming as our benchmarks have shown.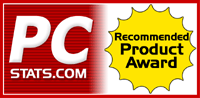 Find out about this and many other reviews by joining the Weekly PCstats.com Newsletter today!

Related Articles

Here are a few other articles that you might enjoy as well...

1. Epox 8KDA3+ nForce3 250Gb Motherboard Review
2. MSI K8N Neo-FIS2R Platinum NF3-250Gb Motherboard Review


3.