Overclocking AMD systems has always been more fun thanks to the ability to change the CPU Multiplier. Once it was lowered to 8x, we began to slowly to raise the motherboard clock speed.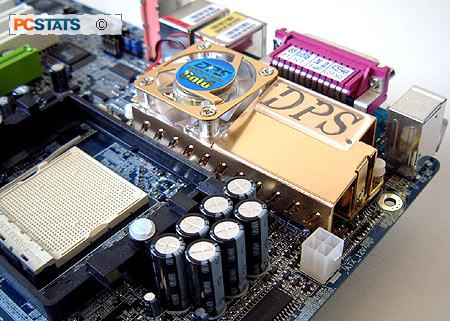 Starting from 200 MHz we went up slowly until 214 MHz FSB where we had to raise the memory voltage to 2.7V. Continuing onward, at 230 MHz the system started to experience some memory problems yet again, this time the fix came by lowering the DDR's operating frequency. After that things were pretty uneventful all the way up to 270 MHz FSB.... excellent for a stock motherboard!
The Blue BIOS: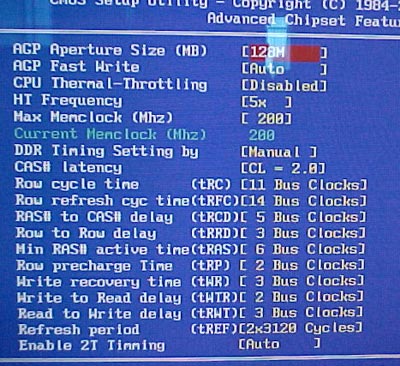 To access the Advanced Chipset Features you must first Press CTRL + F1. If you're a tweaker you're certainly going to love all the different memory options which are available! You can also set HyperTransport speeds, as well as change the around the memory dividers.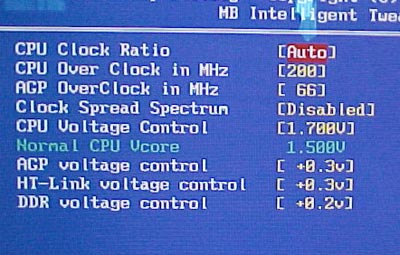 Because the Athlon64 3800+ is multiplier limited, you can lower the CPU's clock multiplier. The Gigabyte GA-K8NSNXP-939 motherboard clock speed can go from 200-455 MHz in 1 MHz increments... although I highly doubt anyone can ever reach those speeds. Still it's nice to have the options. = ) The Gigabyte GA-K8NSNXP-939's CPU voltage can be increased by 0.2V, AGP by 0.3V, HT by 0.3V and DDR by 0.2V.