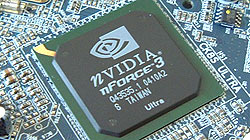 nVIDIA's new nForce 3 Ultra chipset is really just the NF3-250 with Socket 939 support in disguise. The updated NF3-Ultra also addresses some technical issues which bugged the original NF3-150. For example, the NF3-Ultra is a single chip solution like the NF3-250 and NF3-150, but now natively supports four Serial ATA drives, as well as SATA RAID!
By default "NVIDIA RAID" supports the usual RAID mixes of IDE RAID 0, 1, 0+1 and JBOD. One very cool extra feature is that users can mix and match IDE and Serial ATA drives in a RAID array, up to a maximum of four Serial ATA devices, and two IDE hard drives.
While I suspect the vast majority of users really won't have to take full advantage of Gigabit Ethernet any time soon, this didn't mean that consumers were totally satisfied with the NF3-150 only including 10/100 MAC while comparable Intel solutions offered full GbE connections.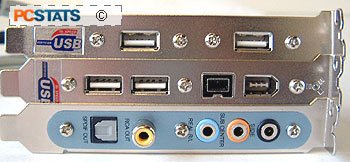 nVIDIA changed the NF3-Ultra to include their own onboard Gigabit NIC which does not run on the PCI bus, like most traditional Gigabit NIC's, but rather runs on its own private bus. This solution is very much like Intel's CSA Gigabit Ethernet solution.
The 10/1000 nVidia NIC still requires a PHY, and the Marvell 8001 takes care of that in the case of the Gigabyte GA-K8NSNXP-939 motherboard.
Something new has also been added into the mix, and that's the nVidia Firewall; a hardware based solution built into the NF3 Ultra/NF3-250GB chipset. We'll get into the details of the Firewall feature in a moment.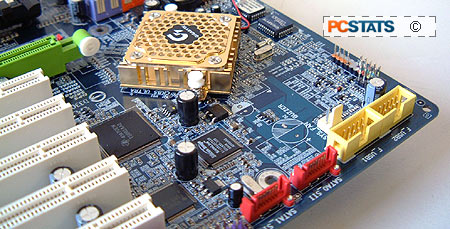 nVidia have also increased the number of USB 2.0 ports on the NF3-Ultra from six (on the NF3-150) to eight. Apparently this time around, the NF3-Ultra has even been optimized to run with nVidia videocards. From PCstats own tests (see the MSI K8N Neo Platinum motherboard review), this is indeed true. Of course, nVIDIA based motherboards will continue to work just fine with ATI, SIS, or Matrox graphics cards.