With more individuals jumping on board with broadband Internet connections, it's very important to safeguard your PC against possible worm and virus attacks, and that is where nVIDIA's nForce3 Ultra hardware firewall comes in. nVIDIA has taken it upon themselves to include a hardware firewall within its nForce2-Ultra400Gb, nForce3-250Gb and nForce3 Ultra chipsets. If configured properly, this should provide consumers of these systems with some protection from the nasties of the Internet.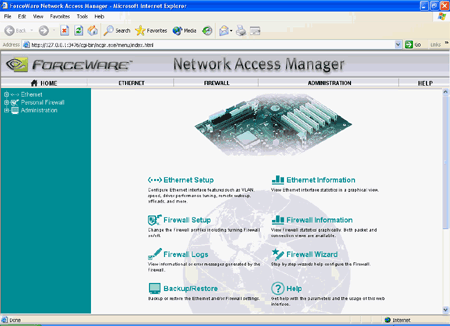 To access nVidia's Firewall functions, double click on the "nVIDIA Web-based Interface" icon on your desktop, or in the programs menu. nVIDIA has organized its Network Access Manager into three different categories; Ethernet, Firewall and Administration.
Clicking on any of the headings or links in the main window changes the menu to the left which gives you detailed controls over a variety of settings.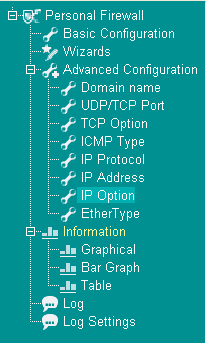 For instance, selecting the Firewall Setup gives you the following options shown above. You can use nVIDIA's defined levels (which is recommended for novice users), or configure things yourself.
The hardware firewall allows you to configure what ports are opened, closed or in stealth mode. Once changes are made, the network interface needs to be restarted. Simply give your PC a few minutes to work it all out, and you're set. If you suspect any suspicious activity you can always look things up in the firewall logs.
Please note that nVidia's onboard hardware firewall is not enabled by default. With the release of SP2 this shouldn't be much of an issue. To initiate it, you'll need to access the Network Access Manager and turn it on. Once the nVIDIA hardware firewall is initiated, it should offer a good degree of protection for your PC against the most common attacks and worms. It won't stop everything, but it is certainly better than leaving a PC unprotected.