I'm sure you've heard me say this type of thing many times when reviewing AOpen products, but AOpen does a lot of the little things right. For instance, the rubber feet on the bottom of the case make the EX915 XCube extremely stable. The only way this little PC is going to get knocked around is if someone does it intentionally.
The rear of the EX915 XCube is well laid out and you shouldn't have any problems identifying what is what since it's all colour coordinated. To make things even easier on end-users, AOpen has put little pictures next to the ports which should help you figure things out.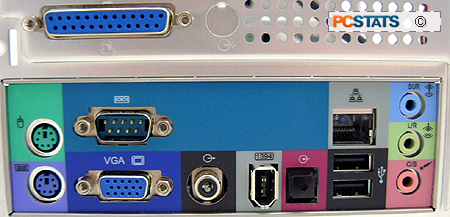 At the back we find the full range of standard ports: normal mouse/keyboard PS/2 ports, one serial port, a 15 pin analog video port, composite output, IEEE 1394, SPDIF in, Gigabit LAN, USB 2.0 ports, line in, line out and microphone jacks for audio as well as a parallel port.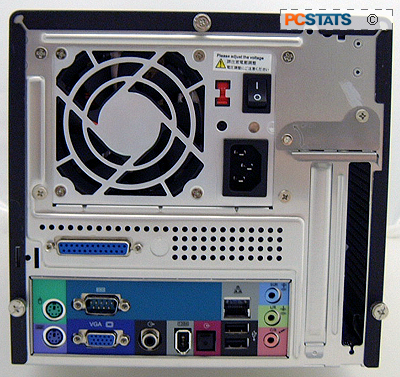 Next to the power switch is the 115/230 volt sliding adjuster for different countries. Make sure you check that your EX915 XCube is set to the right voltage; our review sample was set wrong for North America and if we had turned on the system like that it wouldn't have been pleasant!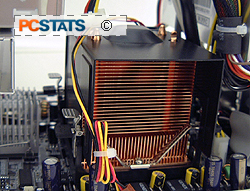 If you find yourself needing to install PCI or PCI-Express expansion cards, the stainless steel bracket used to hold the cards in place simply swings out of the way. After the cards are seated properly, simply put the bracket back to secure the card.
With processors, motherboards and videocards generating more and more heat, keeping a PC cool and quiet can be quite a difficult task. If you don't believe me, just ask your local computer expert why his basement sounds like a hair-dryer factory... Noise, however, is not something you need to worry about with the EX915 XCube.
When you first start the system the processor fan spins at full speed and you're greeted by quite a loud whir, but soon after POSTing the fan quiets down until it's barely audible. During benchmarking, the CPU fan was near silent for all 2D tests (even though the XCube kept up completely with our desktop test systems) and substantially louder for the 3D benchmarks.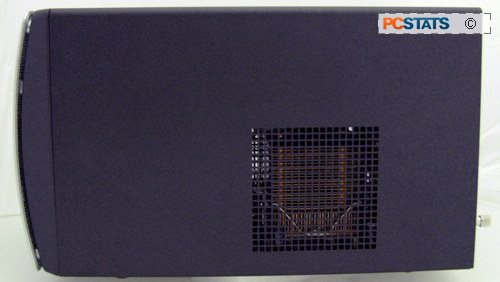 This is not surprising as the 3D tests place a longer sustained load on the processor, so the cooling system needs to kick in at full force. I doubt you'd notice the noise much though, especially when you're busy fragging or racing away. One thing that's very important though: users of the EX915 XCube should make sure that the air vents on either side of the case are clear of obstructions!