AOpen EX915 XCube SFF PC Review
---
Small Form Factor (SFF) PCs have advanced in leaps and bounds since they were first released by Shuttle a few years ago. Back then they were merely novelty items, very cute and cool looking but with limited capabilities. These days though, SFF PCs are quite a force to be reckoned with, and they may yet change the way we look at computers.
It makes sense for manufacturers to miniaturize and to make their systems more visually appealing. This allows consumers to use PCs in non-traditional ways; as the hub of a home theatre system, a high end bookshelf audio center, or even as storage for recipes in the kitchen! The size and shape of this new breed of PC makes these possibilities attractive, whereas previous generations of 'traditionally' shaped beige boxes would have stuck out like a sore thumb.
PCstats recently reviewed an attractive SFF kit from AOpen, the EX915 XCube. This is a 'barebones' kit, meaning that you get the case with the motherboard pre-installed, but you need to purchase and install the processor, RAM, hard drive and optical drive(s) yourself.

AOpen EX915 XCube SFF



Includes:

User Manuals, power cord, case screws, IDE and floppy cables, EZ65 CPU heatsink, driver disks, Serial ATA, ATA-molex power cord, shammy for polishing the XCcube.
SFF PCs are definitely the wave of the future, and AOpen is setting itself apart from the crowd in this market. AOpen's XCube is easily among the best looking SFF PCs available, and AOpen has been extremely quick in getting the latest technology into their systems. Who else has an 915G Socket 775 Pentium 4 board available in a SFF system?
There's more to the EX915 XCube than a fast motherboard of course... In terms of standard equipment, the system also supports IEEE 1394b, Gigabit LAN, 5.1 channel audio, S-Video out and an onboard videocard. Of course, if you feel the need to upgrade, the AOpen EX915 XCube also includes one 32-bit PCI slot as well as a PCI Express 16x slot for hardcore videocard goodness!
Aluminum Chassis
Since the case is made from aluminum, the PC is quite light even when fully loaded. The documentation that AOpen includes with the EX915 XCube is complete and well written, and I'm sure even novice computer users would have no problems setting this SFF PC up.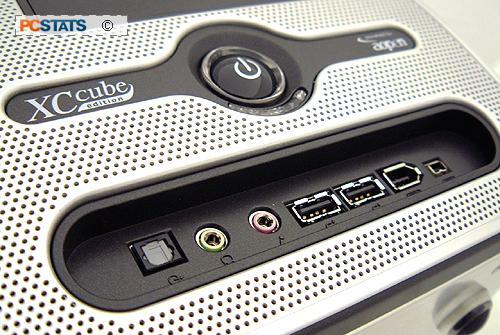 Looking at the front of the EX915 XCube, the optical drive is hidden from view unless it is being used. It keeps the PC looking nice, and it means that users do not need to worry about buying a black DVD or CD optical drive just to colour coordinate.
At the bottom of the front bezel are some commonly accessed ports including a headphone/microphone jack, USB 2.0 and IEEE 1394b ports and even a SPDIF out port for audio applications.
The power button is large and clear, and we tip our hats to AOpen for setting it deep into the bezel. In its current position, you're not likely to power the system down if you accidentally bump into it. The transparent plastic ring that surrounds the power button glows a nice sharp blue when the PC is on, and just under it the large HDD LED also glows a powerful blue when the drive is being accessed. One thing I would have liked to see is a reset switch. there were a few times during testing that I could have used one...