Albatron GeForce PC6600 Videocard Review
---
nVIDIA's GeForce 6800 Ultra stands up very well against ATi's best offerings, but the company has been severely lacking in the ever important midrange and low end markets. Competing for the speed crown is fine and dandy for the ego, but high end sales only represent a sliver of the market and a company cannot survive on that alone. With the release of the GeForce 6600 and 6200 line of GPUs, it seems nVIDIA is turning the corner. Based on the highly successful NV40 architecture, the small 0.11 micron manufactured GeForce 6600 GPU only has half the rendering pipelines of the 6800GT/Ultra, but still packs quite a powerful punch.
PCstats will be putting the Albatron's new GeForce PC6600 PCI Express videocard though its paces in this review, so let's get started. Using the NV43 GPU, the Albatron card is backed up by 128MB of 5ns Hynix DDR memory. Not a lot, but it should suffice for the average gamer.
Albatron typically doesn't include a large software bundle with their cards, and true to form the PC6600 comes with a full version of Arx Fatalis, a five game demo CD, WinDVD and a driver CD. With a retail price of only $161 CDN ($130 US) the card is very affordable, and the extra's are modest. Oh, did I happen to mention that the Albatron GeForce PC6600 also supports TV-Output, as well as component out for HDTV users? Well, it does.

Albatron GeForce PC6600



Includes:

Users manual, Arx Fatalis CD, Demo CD, WinDVD CD, Driver CD, Video Output break out box
It's refreshing to see the relatively small size of the Albatron GeForce PC6600 videocard. After all, nVIDIA and their partners have been the butt of many geek jokes in recent history. Also, unlike some of the other high end cards, the Albatron GeForce PC6600 will not overload your power supply since it does not require an extra power connector. This makes it an ideal option for HTPC or SFF PCs.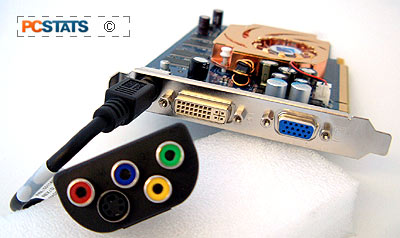 The Albatron GeForce PC6600 supports dual monitors, which means this card can be used for work or business purposes, as well as gaming. The card does not include a DVI-to analog converter however.
HTPC users, or those of you who like to connect your PC to the TV will be happy with all the options the Albatron GeForce PC6600 supports. From your vanilla S-Video/composite output to the sharper component output, it has you pretty much covered. One thing that I thought was cool was the little nVIDIA logo on the break out box, it's obviously not a feature, but it does look kinna neat.
As mentioned earlier, nVIDIA has been the butt of jokes lately and the thing that comes up most often is the amount of noise the GPU cooler typically produces. I'm sure everyone is familiar with the hair dryer picture, where a girl uses a GeForceFX 5800 Ultra to dry her hair... Well you won't get an insanely loud videocard with the Albatron GeForce PC6600. Built on 0.11 micron manufacturing technology, the GPU naturally runs quite cool, and all Albatron needed to do was slap on a medium sized heatsink and fan.
Unfortunately, since the Albatron GeForce PC6600 is a mainstream card, it cannot run in SLI mode as there is no SLI connector. Only nVidia GeForce 6600GT and higher cards will support this feature.