Abstract: Features include a IDE RAID controller, 7.1-channel Intel 'Azalia' audio, four SATA headers, eight USB2.0 ports, and two onboard Ethernet LAN connections.


85% Rating:

Home > Reviews > Motherboards > Albatron PX915P-AGPe
PCI Express and AGP?!?
The most unique feature of the Albatron PX915P-AGPe motherboard is that it has an AGP socket (in orange below) when the i915P is supposed to be an exclusively PCI Express chipset, with PCI Express x1 and x16 slots (in blue and red below). Has Intel gone back on its program to modernize PC's, and do away with legacy technology like the AGP videocard? Well, no. The orange colour 8X AGP socket is actually what the industry call an AGP extension socket, and it is called that because the AGPe runs off the PCI bus. In fact, as far as the computer is concerned, it is technically the third PCI slot on the Albatron PX915P-AGPe.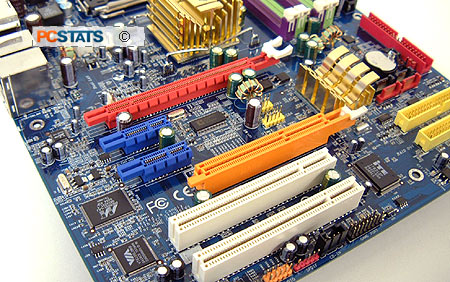 The benefit of creating a socket 775 motherboard with an AGPe socket is that is allows consumers to continue to use their existing AGP videocards, and upgrade to a PCI Express videocard at a later date, or when they choose to. The downside of AGPe is that it operates on the same 33MHz 33-bit PCI interface, so it does slow down the 3D capabilities of high performance videocards quite a bit.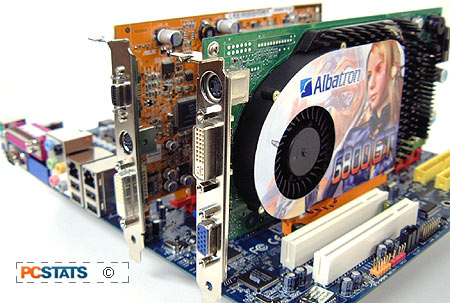 Multimedia enthusiasts should be happy to know that the Albatron PX915P-AGPe is set up so that you can use both a PCI Express and AGP videocard at the same time. Potentially, that means quad monitors! In our review of the PX915P-AGPe, we tested out the AGPe socket by running a whole set of 3D benchmarks with a fairly fast 8XAGP Albatron GeForce 6800GT videocard. Those results are compared to the same benchmarks run with a GeForce 5900 PCI Express videocard.... and we think you'll find the results in the benchmark portion of this review quite interesting. ;-)
Overall I'd say Albatron did a good job with the PX915P-AGPe motherboard, but things are not perfect. The large ICH6 Southbridge heatsink is very close to the AGPe socket, and that could cause interference with components on the rear of the videocard, so keep an eye on that when installing. Albatron could have also placed the USB headers in a better location. Where they are now could potentially interfere with the PCI Express videocard heatsink if it's a large one.